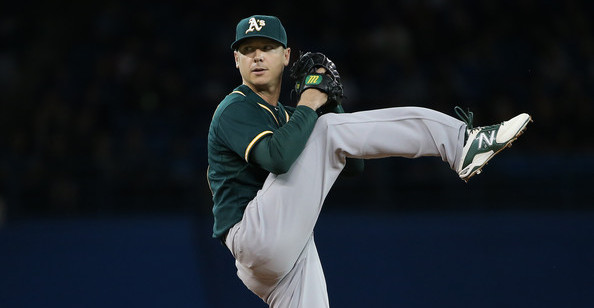 The first trade deadline domino has fallen. The Athletics have traded Scott Kazmir to the Astros for prospects right-hander Daniel Mengden and catcher Jacob Nottingham, both teams announced. The Yankees reportedly scouted Kazmir's last start over the weekend. He's from Houston, so I imagine he's happy with the trade. Also, what a world, the Astros are buying.
Neither Mengden nor Nottingham were including in the Astros' top 30 prospects in Baseball America's Prospect Handbook before the season, though they've both played well this summer, so I'm sure their stock was on the rise. I couldn't tell you what an equivalent Yankees package would have been. Sorry. The prospects are too obscure even for a nerd like me.
The apparently light return could mean prices for a rental starter aren't as high as expected — the market is flooded with available arms, after all, lots of options for buyers — or it could mean teams were scared off by Kazmir's medicals. Remember he left his start against the Yankees with an injury just before the break. Either way, expect trades to pick up now.