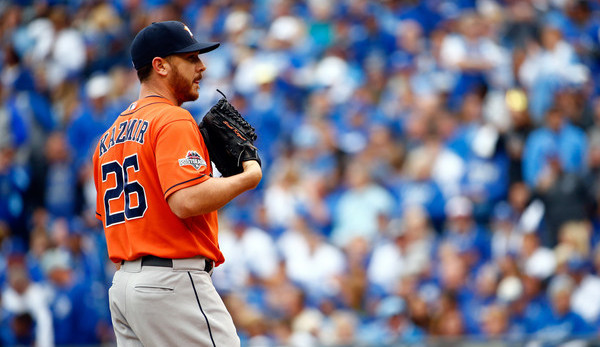 The top three free agent pitchers have now signed with new teams, and several second tier options have come off the board as well, most notably Jeff Samardzija, Jordan Zimmermann, Hisashi Iwakuma, and John Lackey. This is a very good free agent class though, so there are plenty of solid pitchers still on the board, waiting to be signed.
One of them is left-hander Scott Kazmir, whose comeback story is truly remarkable. He was out of baseball almost completely four years ago due to ongoing injury problems, but he got healthy, reinvented himself on the mound, and has put together three very good big league seasons since. Is the current version of Kazmir a fit for the Yankees? Let's take a look.
The Performance
The Indians brought Kazmir back from baseball purgatory three years ago with a low cost one-year contract. He took advantage and turned it into a two-year contract with the Athletics. Oakland traded him to the Astros at the deadline this past season. Here are Kazmir's last three seasons.
| | IP | ERA | FIP | K% | BB% | GB% | RHB wOBA | LHB wOBA |
| --- | --- | --- | --- | --- | --- | --- | --- | --- |
| 2013 | 158.0 | 4.04 | 3.51 | 24.1% | 7.0% | 40.9% | .348 | .253 |
| 2014 | 190.1 | 3.55 | 3.35 | 21.1% | 6.4% | 43.8% | .285 | .304 |
| 2015 | 183.0 | 3.10 | 3.98 | 20.3% | 7.7% | 42.9% | .285 | .337 |
| Total | 531.1 | 3.54 | 3.61 | 21.8% | 7.1% | 42.6% | .304 | .299 |
Kazmir is a true fly ball pitcher. He's not one of those guys with a low ground ball rate who makes up for it by getting a lot of infield pop-ups or something like that. (The pre-2015 version of Michael Pineda, basically.) His pop-up rate the last three years is 7.6%, below the league average, which hovers around 9.0% each year. Kazmir allows a lot of fly balls to the outfield and spacious O.co Coliseum definitely helped his ERA from 2014-15.
That said, Kazmir's peripherals are pretty good too. His strikeout and walk rates are above-average for a starting pitcher, and his homer rate (0.93 HR/9 and 9.7 HR/FB%) is basically league average. I would expect the homer numbers to climb a bit with a move into Yankee Stadium because of the short porch and stuff. Kazmir hasn't had a significant platoon split over the last three seasons but he has gotten progressively worse against lefties, which is weird.
So the overall numbers are good, but dig a tiny bit deeper and you'll see Kazmir is basically a first half hitter. We hear about position players being first or second half hitters all the time, but we rarely hear about first or second half pitchers. Here are Kazmir's first and second half splits over the last three seasons:
| | IP | ERA | FIP | K% | BB% | HR/9 | Opp. Avg/OBP/SLG |
| --- | --- | --- | --- | --- | --- | --- | --- |
| First Half | 304.2 | 3.04 | 3.61 | 22.9% | 7.3% | .92 | .225/.287/.363 |
| Second Half | 226.2 | 4.21 | 3.86 | 20.3% | 6.6% | .96 | .270/.324/.406 |
Kazmir's performance has suffered in the second half since he resurfaced, especially the last two years. He had a 2.38 ERA (3.19 FIP) in the first half last year, then a 5.42 ERA (3.61 FIP) in the second half. This past season it was a 2.49 ERA (3.23 FIP) in the first half and a 3.86 ERA (4.90 FIP) in the second half. Given all the injuries he had earlier in this career, it's entirely possible Kazmir can no longer hold his stuff over a full season, so his performance suffers.
Either way, Kazmir's overall performance has been very good these last three seasons. So it's skewed towards the first half. Big deal. The first half counts too. Kazmir can still miss bats and he doesn't have a platoon split, plus I think the successful comeback — he was limited to 17.1 innings in 2011 by injuries, then pitched in an independent league and winter ball in 2012 in an effort to get noticed — is an indication he's a pretty tough guy. He's been through the grinder to get to where he is.
The Change In Stuff
Once upon a time, Kazmir led the AL in strikeouts as a 23-year-old because he had mid-90s gas and one of the best sliders you'll ever see. That guy is long gone. Kazmir has morphed from a four-seamer/slider pitcher into a four-seamer/sinker/changeup pitcher. He's also added a little cutter. Kazmir still throws some sliders, but the changeup is his go-to secondary pitch now.
Given his injury history and the way pitchers age in general, I'm not sure looking at Kazmir's stuff from even three years ago tells us much about him going forward. He turns 32 in January, an age where even healthy pitchers start to slip, so I'm going to focus on his 2015 stuff. Here's a quick breakdown (MLB averages for starters in parentheses.)
| | % Thrown | Velo. | Whiff% | GB% |
| --- | --- | --- | --- | --- |
| Four-Seamer | 31.0% | 93.1 (91.9) | 10.6% (6.9%) | 28.7% (37.9%) |
| Sinker | 26.8% | 91.8 (90.8) | 6.5% (5.4%) | 45.4% (49.5%) |
| Slider | 7.7% | 81.7 (84.5) | 13.3% (15.2%) | 41.9% (43.9%) |
| Changeup | 18.1% | 77.0 (83.3) | 18.4%  (14.9%) | 45.2% (47.8%) |
| Cutter | 12.6% | 87.8 (87.2) | 11.0% (9.7%) | 57.8% (43.0%) |
Kazmir generated an above-average number of swings and misses with every pitch but the slider, which is funny because the slider was the pitch he rode to the AL strikeout crown in 2007. The cutter was his only reliable ground ball pitch this past season and it was only his fourth pitch based on usage. That changeup Kazmir now relies on gets an above-average number of whiffs and a league-average-ish number of grounders.
Interestingly, Kazmir is still able to generate above-average fastball velocity despite all those injuries. He has lost some oomph from his halcyon days with the (Devil) Rays, but overall the velocity is still above average. Of course, Kazmir has lost velocity as the season has progressed the last few years, leading to those second half slumps (via Brooks Baseball).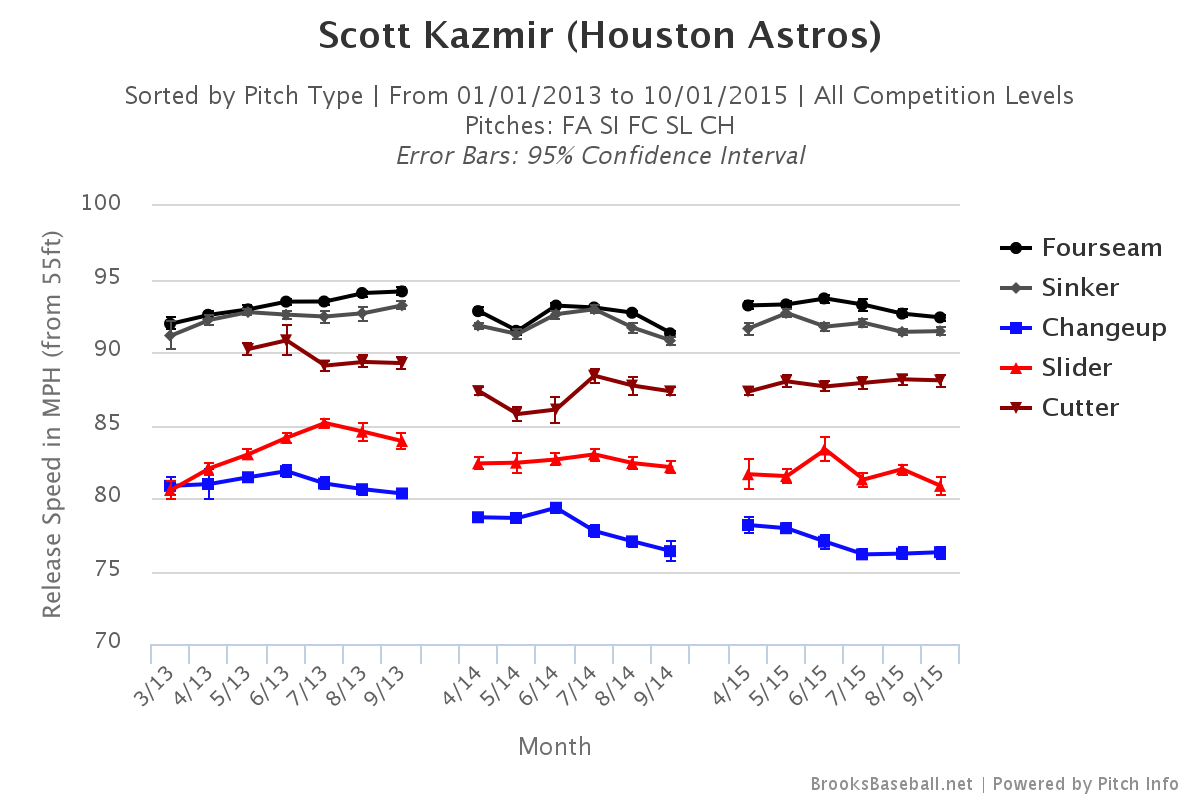 Kazmir's fastball velocity actually improved as the 2013 season progressed, but the last two years the four-seamer and sinker have faded in the second half. The changeup velocity has faded too, allowing him to maintain that incredible separation with his fastball — the gap between his sinker and change was 14.8 mph in 2015, which is insane — but losing velocity is when bad things happens. Here's some video of good Kazmir.
The current version of Kazmir is a five-pitch guy with two fastballs, a quality changeup, plus usable fourth (cutter) and fifth (slider) pitches. As cliche as it is, he's become a pitcher now, getting outs by locating and keeping hitters off balance. Back in the day he used to be able to overpower hitters with his fastball and slider. His stuff was so good. He's had to adjust due to the injuries and, as the results show these last three seasons, Kazmir's made that adjustment.
Injury History
The arm injuries first started to set in back in 2006 and they continued through 2010. Kazmir's back then gave him problems in 2011. Here's a quick run down of his major injury issues.
2006: Shoulder fatigue and inflammation (52 days missed)
2008: Elbow strain (43 days missed)
2009: Quad strain (37 days missed)
2010: Shoulder soreness (48 days missed) and hamstring strain (24 days missed)
2011: Lower back strain (72 days missed)
Some of the injuries also lingered into the offseason. Kazmir has avoided major injuries the last few years but he has missed a few starts with nagging day-to-day stuff. Some general arm soreness hampered him early last year, and this past season he missed time with a triceps problem. You may remember Kazmir leaving a start against the Yankees after only three innings back in July. That's when the triceps acted up.
The good news: Kazmir has never had any kind of surgery. He's just had a lot of strains and fatigue and soreness and stuff like that. This isn't a guy who had to go under the knife because of major structural damage. Still, Kazmir's velocity is not what it once was and he's had to revamp his pitching style to remain effective because the injuries robbed him of stuff. Give him credit for doing it. It doesn't make his injury history any prettier though.
Contract Estimates
I've come to the conclusion that there's a pretty big disconnect between how we perceive the market and the actual market. We're a year or two behind, it seems. Contracts aren't crazy, we're just behind. Teams obviously have lots of money to spend and a willingness to spend it. Here are some estimates for Kazmir:
The dollars make perfect sense to me. I think Bowden's $16.5M average annual value projection is closest to what Kazmir will actually get. (Remember, Samardzija got $18M per year.) The years are where it gets interesting. You want to keep it to three years because Kazmir's had so many injury problems and he's faded in the second half the last two years, but in this market he has every reason to ask for four years.
I get the feeling this is going to be one of those "the team that offers the fourth year is the team that gets him" situations. Kazmir is arguably the top pitcher left on the free agent market — it's either Kazmir, Mike Leake, or Wei-Yin Chen at this point — and that gives him some leverage. The Dodgers and Cardinals figure to be in the mix, among others.
Wrapping Up
Kazmir's reinvention really fascinates me. The guy has carved out a successful MLB career with two totally different pitching styles before his 32nd birthday. He still has velocity but has gotten away from relying on overpowering hitters, so in theory he should age better, assuming he stays healthy. At the same time, his arm feels like a ticking time bomb.
The Yankees have not been connected to Kazmir or really any free agent so far this offseason. They do need rotation help and Kazmir won't require a substantial commitment, but he's not going to be cheap either. The Yankees would have to change their "we're not spending" approach to get him. Odds of that happening? Pretty small, I'd say.
Kazmir fits the Yankees because he's quite good, first and foremost, plus he's also a Yankee Stadium friendly left-hander who is familiar with the AL East to some extent. (It's been a while since he was with Tampa though.) That said, I'm not sure another pitcher with health concerns who isn't a lock for a lot of innings moves the needle much. The Yankees need reliability.