Rapid fire mailbag this week, so ten questions and ten answers. Please use the Submit A Tip box in the sidebar to send up anything throughout the week, mailbag questions or otherwise.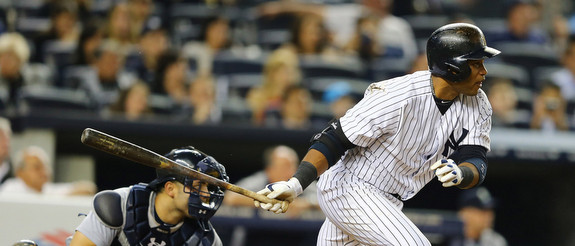 Max asks: At what point should we worry about Robinson Cano's bad lefty splits going forward? He's hitting .254/.299/.476 against lefties this year and had a .239/.309/.337 line last year. Sure, he still mashes righties but I'm really not comfortable with the idea of giving a potential platoon player a megadeal. Thanks.
Oh it's definitely a red flag right. Cano hit lefties nearly as well as he hit righties until last season, when his performance fell off a cliff. I looked at the data as part of our season review and didn't find any significant red flags. This year though, both his ground ball (56.3%) and strikeout (22.4%) rates are way up against southpaws. That could change in a hurry since it's so early in the season. If that continues into the summer, I'd be very worried. Giving a super-long contract to a middle infielder is risky enough, and it would be even worse if he's morphed into a platoon bat. Not worried yet, but I will be watching this.
Steve asks: Single-season saves record is Francisco Rodriguez at 62. Mariano Rivera is on pace for 66. What are the odds he does it?
This isn't really a Mo thing, right? The other 24 players on the team have to create those save opportunities for him. They'd have to give him like, 67 save chances over the full season to get to 62 saves, which means another 51 save chances in the final 121 games of the year. It's doable, the Yankees play a ton of close games because their pitching is good and their offense mostly stinks (94 wRC+!), but only twice has someone saved more than 55 games in one year. I think the odds are very small, maybe 5% on the high-end.
Vinny asks: Assuming Travis Hafner gets and stays healthy (big assumption), what will the Yankees do with Lyle Overbay whenever Mark Teixeira comes back? His performance against righties has been excellent.
His performance against righties has been excellent (160 wRC+), but so has Hafner's (151 wRC+). Pronk also does a much better job of holding his own against southpaws (98 wRC+, where Overbay has been basically useless (-21 wRC+). Their overall hitting numbers aren't particularly close either (106 vs. 139 wRC+). The Yankees will have to decide if Overbay's advantages on defense and durability make up the difference in offensive production. Considering he's a first baseman and first baseman only, I think the answer is clearly no.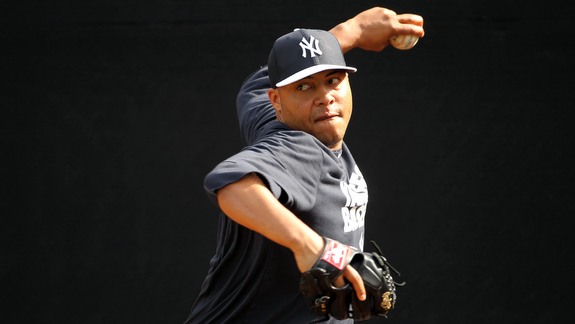 Brad asks: Do you see the Yankees shopping for another LOOGY? Or do you believe Brian Cashman will wait to see what Clay Rapada and/or Cesar Cabral can contribute?
I definitely think they will see what they have internally first. That means Vidal Nuno and maybe even Josh Spence in addition to Rapada and Cabral. If those guys all manage to flop — or if Boone Logan gets hurt — in the coming weeks, yeah I could see them looking for lefty relief help at the deadline. It definitely isn't a pressing need right now.
KG asks: Would the Yankees have the interest/package to trade for Nick Franklin? He may not end up a bonafide major league shortstop, but the Mariners have Dustin Ackley at second and Brad Miller just behind Franklin. Pipe dream?
I'm sure there would be some interest on New York's part, but I don't see why the Mariners would move him right now. He's tearing up the Triple-A level (159 wRC+) and even though he's unlikely to be a shortstop long-term, he's much better than their big league shortstops. Ackley is awful but they won't give up on him yet, but Miller is far from a sure thing. I think the Mariners will call Franklin up in the coming weeks and give him a chance. The only thing the Yankees have to offer are a bunch High-A and Double-A outfielders, none of whom is performing particularly well this year. I don't really see a trade fit.
Anonymous asks: With Seattle having uber-catching prospect Mike Zunino just about ready for the show — any chance Seattle will take offers for Jesus Montero? What would the Yankees have to give to reacquire Jesus?
Teams usually aren't quick to admit failure after a trade of that magnitude, so I don't think Seattle would be open to moving Montero so soon without getting a big piece in return. They're not going to sell-low and take two Grade-C prospects despite his dismal big league performance. The Yankees could stick him at DH, teach him first base, catch him on rare occasions … basically everything they could have done when he was with the organization. I don't see this happening at all.
Anonymous asks: Do you believe the Yankees are planning to trade Joba Chamberlain for pieces around the deadline, considering the Yankees' surplus of middle relief options? Joba could bring back a cost-controlled piece.
He's an injury-prone middle reliever who will be a free agent after the season. You don't get "pieces" in return for that, and the only cost-controlled piece he'll bring back in a mid-level prospect. Joba's value to the Yankees as a seventh inning reliever is much greater than anything they'll realistically get in return. Teams aren't giving up anything worthwhile for him, I know I wouldn't.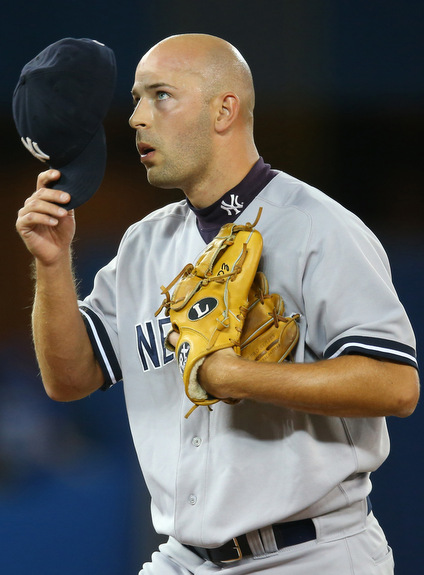 Mike asks: Sort of a two-part David Aardsma question now that the Marlins released him. Firstly, why are teams not giving him a shot in the Majors, and secondly, would it make sense for the Yanks to go pick him up again?
I don't know why he hasn't been given a big league shot yet, but I don't believe it's because he's been overlooked. Teams know Aardsma, and anytime a former standout closer becomes a free agent, he gets looked into. They must not like what they've seen, either in his stuff or command — he did walk eight in 14 innings before the release, which he requested — or whatever. If Aardsma wants to come back to the organization and pitch in Triple-A for a few weeks, great. I wouldn't give him a big league job over Shawn Kelley or Preston Claiborne (or Joba) right now though.
Tuckers asks: I know it's too soon to predict, but what do you think about the Yankees signing Tim Lincecum after the season? I think there's a good argument to be made either way.
My answer at this exact moment is no. That is subject to change between now and the offseason, but his velocity continues to hover around 90 mph and his offspeed stuff isn't as devastating as it was when he was 93-95. His walk (4.25 BB/9 and 11.0 BB%) and homer (0.92 HR/FB and 15.6% HR/FB) rates are career-worsts, and that's in a big park in the NL. The Yankees do a wonderful job of squeezing production from seemingly cooked veterans, but I don't think Lincecum is coming on a cheap one-year deal. So yeah, right now my answer is no. If he adds some velocity this summer, my opinion will change.
Brad asks: So the Yankees seem to have a glut of serviceable, young starting pitchers. Is there a deal out there for them to turn some quantity of these into an impact bat?
I don't think so. I don't see any team giving up an impact back for guys like Ivan Nova and David Phelps, Adam Warren and Vidal Nuno. Two or three projected fifth starters doesn't get you one really good bat. Maybe they could get a David Adams type, but that wouldn't qualify as an impact bat in my opinion.