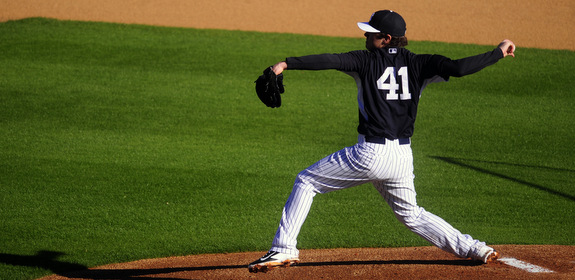 According to George King, the Mariners had a scout on hand to watch David Phelps' second spring start last night. He got hit around pretty hard but held the Orioles to only one run in 2.2 innings, striking out two and walking one. Phelps is currently competing for the fifth starter spot, though Joe Girardi confirmed he will make the team in some capacity.
The Mariners have been hit hard by injuries this spring. Co-ace Hisashi Iwakuma is sidelined with a finger sprain and top prospect Taijuan Walker is dealing with a shoulder problem. Manager Lloyd McClendon confirmed both guys will open the season on the DL, leaving the team with Erasmo Ramirez, James Paxton, Brandon Maurer, and Scott Baker behind Felix Hernandez. Their need for another arm is obvious.
Seattle's top trade chip is infielder Nick Franklin, who was pushed into trade chip status by the Robinson Cano signing. The 23-year-old switch-hitter hit .225/.303/.382 (90 wRC+) with 12 homers, six steals, and a 27.4% strikeout rate in his 412 plate appearance MLB debut last season. His defense is shaky — he's already moved off short and is error prone at second — and more than a few people think he'll have to drop switch-hitting and stick to batting lefty down the road. Baseball America (subs. req'd) said he "profiles as a solid regular who could play in a few All-Star Games" before last season.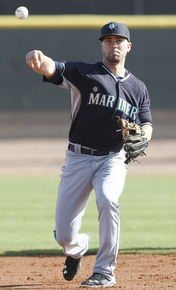 The Yankees desperately need a young infielder and Franklin certainly fits the bill even though I'm not his biggest fan. I'd trade four five years of Phelps for six years of Franklin in a heartbeat, but I suspect the Mariners are going to want another piece or two. Both the Mets and Rays have been talking to Seattle about Franklin — Tampa was reportedly on the verge of the deal, but then Jeremy Hellickson got hurt and they were reluctant to sacrifice pitching depth — so there is plenty of competition.
Of the various fifth starter candidates, the 27-year-old Phelps feels like the safest bet to be a productive big leaguer in 2014. In order to deal him, I think the Yankees would have to feel pretty good about Michael Pineda heading into the season and/or be open to signing a low-cost pitcher (Jeff Niemann? Jeff Karstens?) to replace the depth. Given their pitching situation, I'm guessing the Mariners would like to get a deal done sooner rather than later. That could work to New York's advantage in trade talks.
In other news, King says both the White Sox and Brewers also had scouts on hand for last night's game. Both clubs are looking for catching depth, something the Yankees can spare. Chicago has some infield depth to offer and we've already heard the Yankees will monitor Rickie Weeks this spring. Given the infield situation, the Yankees could swap Phelps+ for Franklin and a catcher for Weeks or one of the ChiSox infielders (or one of the Diamondbacks infielders). It doesn't necessarily have to be one or the other.