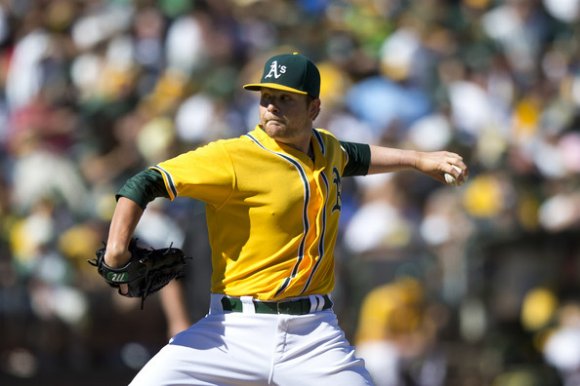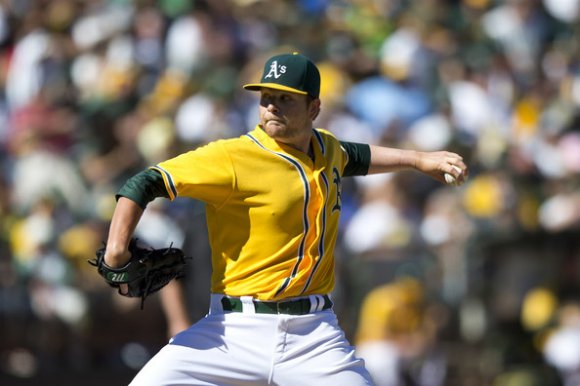 Update: Lookee here: Jeff Passan of Yahoo! reports that the Yankees are showing interest in Anderson, and that he's expected to be dealt next week at the Winter Meetings. Though given the flurry of recent activity, especially involving the A's, it doesn't appear anyone is waiting for the yearly conference to conduct their business.
While improving the offense appears to dominate the Yankees' free agent agenda early this off-season, the pitching staff still presents a number of issues. Brian Cashman said he had to find 400 innings, meaning two reliable starters, this off-season. They could get 180 or so of those innings if Hiroki Kuroda accepts their offer, but they still have a huge number of innings to fill and not many attractive options on the free agent market.
The trade market looks fairly thin as well, yesterday's deal involving Doug Fister notwithstanding. David Price might become available, but the Yankees don't have the pieces to land him even if the Rays deigned to trade him within the division. Beyond that, it's difficult to identify a team willing to part with an impact starter (except maybe the Red Sox, which is out of the question). That leaves the free agent market, which could inflate given the lack of trade options. Does anyone want Matt Garza for four years and $60 million, or to give up on a draft pick for the two good years Ubaldo Jimenez has produced in his career?
Make no mistake: the Yankees absolutely need two reliable starters this off-season. Getting cute with rotation construction will only compound the issue as the season wears on. Yet two reliable starters will give the Yankees four definites, including CC Sabathia and Ivan Nova. For his part, Nova has yet to put together a full, effective season, so he remains something of an unknown. Behind him are David Phelps, Michael Pineda, and Vidal Nuno, all unreliable for one reason or another.
It might seem folly to add yet another unreliable arm to the fold, but it might be a gamble the Yankees need to make. This week we've learned that one potentially solid, but unreliable, pitcher has become available. Rumors started early in the off-season that the A's could trade Brett Anderson, and with the addition of Scott Kazmir (two years, $22 million) and Jim Johnson (projected arbitration of around $10 million), they're almost certainly looking to shed Anderson's $8 million salary. In fact, just this morning we learned that the A's are currently discussing an Anderson trade. While the Yankees aren't mentioned, they could be players if Anderson remains on the A's for a few more weeks.
Why it works
Bringing in a wild card like Anderson can work if the Yankees get their 400 additional innings from more reliable sources. In that case they'll have Phelps, Pineda, and Nuno to battle for the fifth spot. Still, given the utter uncertainty of that group, why not add a guy who can perform considerably better than the typical fifth starter on a first-division team?
Despite a poor 2013 outing, Anderson has produced a 3.81 ERA during the parts of his five seasons in the majors (109 ERA+). His strikeout numbers haven't been particularly impressive, but he has displayed good control a a decent ability to keep the ball in the park (though at Oakland Coliseum). Before he came up Baseball America rated him the No. 7 prospect in the game, a potential he's shown signs of fulfilling, if it weren't for that one big issue.
Injuries have plagued Anderson throughout his career. He spent 96 days on the DL in 2010 with elbow problems, and then underwent Tommy John surgery in the middle of 2011. Even after he returned in late 2012 he got hurt, finishing the season on the DL with an oblique strain. In 2013 he suffered an ankle sprain after a rough start in April, but he did come back to strike out 16 in 12.2 innings out of the pen to close out the year.
Why the Yanks can use a wild card
Again, the entire idea of Anderson is predicated on the Yankees acquiring two other reliable starters. To rely on Anderson for 100 innings might not be the best bet. But it's a bet the Yankees can make, given their current makeup. In fact, if they do find those 400 innings elsewhere, Anderson can be a huge strength.
If the Yankees get two starters, the fifth starter competition is between David Phelps, Michael Pineda, and Vidal Nuno. Phelps is the clear frontrunner before camp even starts, given his experience. At the same time, his value is in his flexibility. The Yanks have shown they can put him in the pen and then have him spot start if the need arises. Given the depletion of the bullpen, he could be valuable in a setup roll, and then come out to make a spot start if needed.
Given Pineda's recovery from shoulder surgery, he likely should start the season in the minors. He could, for all we know, come out guns blazing in camp after a full off-season of healthy recovery. Who knows. But given what we saw from his rehab efforts, that's not something anyone can count on. Consider him the first depth option. Nuno is essentially a depth option, not really a fifth starter on a playoff contender (though he has proven people wrong before).
With Anderson in the fold, the Yankees would have depth they could pull from both the bullpen and the minors. That's the kind of flexibility that allows teams to endure injuries. If Nova isn't as effective as he was in the second half, if they want to give Kuroda a breather (if he re-signs), if Sabathia gets hurt, they'll be somewhat covered with depth.
Why it doesn't work
It's hard to overlook a guy who has missed, on average, more than 100 games per season in the last four years. There are players who start out as injury guys who, as they reach physical maturity, just stop getting hurt. Anderson, who turns 26 just before pitchers and catchers report, is entering the prime years of his career. He could be one of those guys.
Yet even if he is, it might not happen this year. If Anderson continues to get hurt in his age-26 season, but starts staying healthy at age 27, it does little to help the Yankees. If he spends another year mostly on the DL, they're not going to pick up his $12 million option for 2015.
As it stands, he's an $8 million lotto ticket, who will cost the Yankees prospects in addition to the cash. While Oakland might be eager to trade him, they're still not going to take zeroes in return. Anderson could well fit better on a team with more room to experiment, or a team that's not trying to sign a number of big free agents.
Whether the Yankees show interest in Anderson depends on their taste for risk. Obviously they'll first have to address the tangible holes in their rotation. If the A's decide to deal Anderson before they do that, the Yankees have no shot. While they don't have to acquire players in order of need, they certainly want to focus their resources on reliably filling their 400-inning gap. After that, if they have the stomach for the risk, Anderson could be an interesting player to watch. When else does a 26-year-old, left-handed, potential No. 3 starter hit the trade market?