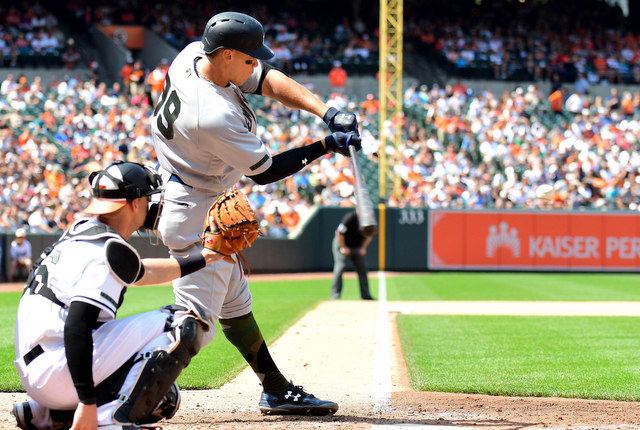 Once upon a time, I was a lineup complainer. The lineup would be posted each day at 4pm-ish and I'd complain about it. So and so is hitting too low, this guy is hitting too high, why is bench player flavor of the week not playing, that sort of stuff. A few times a year the Yankees would play the "ideal" lineup. Otherwise it was the same story, day after day. The lineup stinks and I was Mad Online.
I've outgrown that, thankfully. Daily lineup complaints are no way to go through life. As long as Joe Girardi doesn't do something crazy like bat his best hitter ninth (which he never does and would never do), whatever lineup he runs out there is fine with me. So this post shouldn't construed as me complaining about the lineup. This is more of a rational discussion about the batting order nearly one-third of the way through the season.
For the most part, I think we can all agree on one thing regarding the lineup: Brett Gardner should lead off, and Chase Headley and Chris Carter should bat eighth and ninth, really in either order. I guess that's three things. Anyway, that stuff is straight forward. Gardner is, yet again, one of the team's best on-base players and count-workers. Headley and Carter have been terrible and should get the fewest at-bats. Simple, right? Right.
The few spots beyond Gardner are what I really want to discuss. This is my ideal top of the lineup right now, given the available personnel:
LF Brett Gardner
CF Aaron Hicks
RF Aaron Judge
The three outfielders, left to right. Gary Sanchez has been hitting second most of the season and I am totally cool with that. It works for me. Sanchez has looked a little jumpy at the plate the last few days, but I'm not worried. Hitters go through their ups and downs. Sanchez is one of the team's best hitters, so by all means, hit him second. Josh Donaldson and Kris Bryant won MVPs hitting second in recent years. Power hitters can hit there too.
That said, I like Hicks hitting second over Sanchez right now because, well, Hicks has been the better hitter this season. The better overall hitter and, more importantly, the better on-base threat. Hicks has a .426 OBP this year. Sanchez has a .356 OBP. That's still good! But it's not .426. Batting Hicks second means more runners on base for Judge, who has inarguably been the Yankees' best hitter this season.
Judge started the season hitting lower in the lineup and understandably so, but he's forced his way up, and now he is in entrenched as the No. 5 hitter. Moving Judge up even further to the No. 3 spot means more at-bats. More at-bats over the course of the season, and a better chance to get Judge that one extra at-bat in an individual game. Through 48 team games the No. 3 spot has 14 more plate appearances than the No. 5 spot for the Yankees. That's 14 more times Judge would have come to the plate in the late innings. It's not nothing!
We're not splitting atoms here. Hicks (.426), Judge (.419), and Gardner (.363) have the three highest OBPs on the Yankees. They make fewer outs than anyone else. Judge is also one of the game's top power threats. Batting Gardner and Hicks first and second is, by far, the best way to get men on base for Judge. Batting these three atop the lineup also means they get the most at-bats, therefore giving the Yankees more chances to score.
Going with Gardner-Hicks-Judge atop the lineup and Headley-Carter at the bottom leaves you Sanchez, Starlin Castro, Matt Holliday, and Didi Gregorius for the 4-5-6-7 spots. What's the best way to order them? I'm not sure there's a wrong answer. I'd prefer hitting Sanchez fourth because I think he's most likely to be an impact bat the rest of the season, but if you said the same thing about Castro or Holliday, I wouldn't argue (much).
The important thing, as far as I'm concerned, is getting Judge more at-bats because because the guy is a monster, and the more he plays, the better the Yankees' chances to win. Jacoby Ellsbury's concussion — Girardi said yesterday Ellsbury is still experiencing headaches, so he remains shut down indefinitely — ensures Hicks will be in the lineup everyday, and as long as he's hitting like this, Hicks is the perfect No. 2 hitter. On-base ability, power, speed, switch-hitter, the whole nine. Perfect.
The lineup almost seems to write itself from there. Gardner leads off, Hicks hits second, Judge hits third. Your two best on-base players and your most devastating hitter. Sanchez, Holliday, Castro, and Gregorius add quality lineup depth through the No. 7 spot too. I get why Girardi hits Sanchez second, Holliday third, and Castro fourth. I do. But nearly 50 games into the season, it's the clear the more Aaron Judge hits with men on base, the better. The lineup should be built in such a way that maximizes those opportunities.