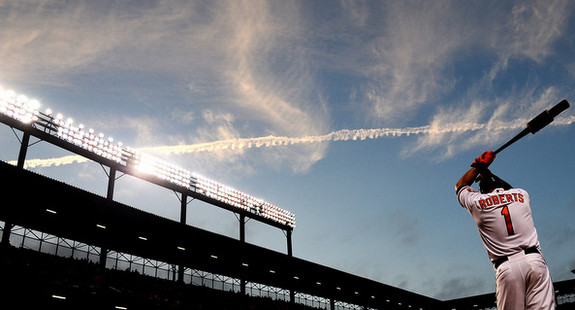 I was planning to write one of these thoughts posts this week anyway, but at least yesterday's activity gives me a decent title. The Yankees agreed to sign both second baseman Brian Roberts (one-year, $2M) and left-hander Matt Thornton (two years, $7M), two moves that put a small dent in a lengthy offseason wish list. They still need a third baseman, a starting pitcher, another reliever (preferably two), and general depth. Here are some nuggets for the time being.
1. The Roberts signing really doesn't accomplish much in my opinion. You can't count on him to stay healthy and even if he does manage to stay healthy, there's no guarantee he'll be any good. Gotta hope his .284/.327/.441 (109 wRC+) line against left-handers this past season was legit and not just noise from a 110 plate appearance sample because his .249/.312/.392 (90 wRC+) overall line was pretty mediocre. Everyone loves those high-risk, high-reward signings, but I think Roberts is better described as low-risk, low-reward. The Yankees are said to be seeking more infield help and that's a good thing. I'm not sure they actually added any yesterday.
2. Thornton, on the other hand, is a real nice pickup as long as Joe Girardi uses him as a true lefty specialist and doesn't force him out there against righties. He was one of the most dominant relievers in baseball once upon a time but that is no longer the case. Thornton has been better than Boone Logan against same-side hitters these last few years (doesn't strike out as many but also gives up fewer extra-base hits) and the Yankees landed him for less than half the total cost. Heck, they got him for less than J.P. Howell (two years, $11.5M). Everyone wants a lefty reliever who can handle both lefties and righties, but there aren't many of those guys around. As long as Girardi keeps him away from righties, Thornton should be very useful.
3. At some point soon, the Yankees will need to open 40-man roster spots for Roberts, Thornton, and the still not officially signed Carlos Beltran. Vernon Wells and David Huff stand out as obvious candidates to be taken off the roster, but after them? I have no idea. Ramon Flores and Nik Turley could end up going, but the latter would surely get plucked off waivers since he has minor league options remaining and is both left-handed and breathing. It seems unlikely Eduardo Nunez will go because the team isn't in the position to give away middle infield depth. Maybe they're working on dumping Ichiro Suzuki for some salary relief, which would also clear a spot. Either way, the Yankees have a serious roster crunch at the moment.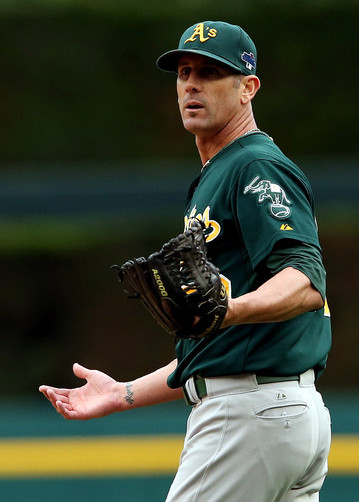 4. Grant Balfour (two years, $15M with the Orioles) and Jose Veras (one year, $4M with the Cubs) signed with new teams yesterday and both guys made a ton of sense for the Yankees, especially on those terms. Those are pretty sweet contracts, more than reasonable in this market. Both guys were handed the closer's role by their new teams though, so this isn't a simple "they should have matched the offers" situation. David Robertson should get the ninth inning next season for reasons Joe outlined over the weekend, but damn, I would have loved to see the Yankees add Balfour and/or Veras on those deals.
5. The Yankees have committed just under $231M to five outfielders over the last calendar year (Ichiro, Wells, Alfonso Soriano, Jacoby Ellsbury, Beltran), which is mind-blowing. Only one of them is younger than 35 and only one (Beltran) feels like a lock to post an .800+ OPS next year as well. Sure, Soriano could do it, but he needed that huge finish with New York to finish with a .791 OPS this past season. He turns 38 next month and, as Ichiro and David Justice showed, big finishes following a midseason trade don't always carry over to the next season. The point of this is … I dunno. I guess that the team has spent a ton of money on outfield help over the last year and didn't get a whole lot of offensive help in return.
6. This crossed my mind the other day and I figured I'd bring it up here: how long will it be before another homegrown Yankee tops a .900 OPS while playing a full season/qualifying for the batting title? The last five guys to do it were Robinson Cano (2010 and 2012), Jorge Posada (2003 and 2007), Derek Jeter (1999 and 2006), Bernie Williams (1996-2002), and Don Mattingly (1984-1987), so it's not exactly a common occurrence. Gary Sanchez is a possibility but the kid is 21 with only 23 games of experience above Single-A. Hard to pin it on him. There's no obvious candidate. Could it be another ten years (the gap between Mattingly and Bernie) before it happens again? Fifteen? Five?