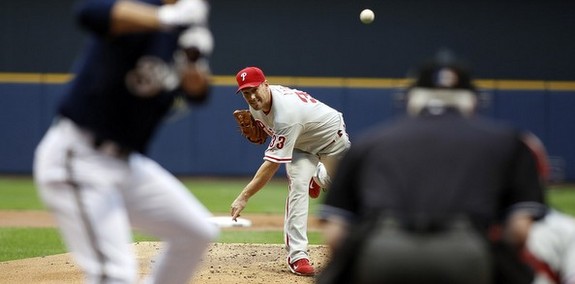 David asks: Would the Yankees have any chance to get under the $189mm "cap" if they had signed Cliff Lee a few years back? I think it would be much tougher which might be good or bad.
The Yankees (and Rangers) tried to sign Cliff Lee as a free agent during the 2010-2011 offseason, a year before the new Collective Bargaining Agreement and luxury tax/revenue sharing rules were put in place. It's not like everyone knew the new system was coming and the Yankees were willing to blow past it anyway, just to be clear.
Let's say Lee signed the contract the Yankees offered him, which according to Jerry Crasnick was a six-year deal worth $132M plus a $16M player option for a seventh year. The option doesn't count for luxury tax purposes since it's not guaranteed, so Lee's annual tax hit would have been $22M. Obviously if you add that to their current payroll obligations plus Robinson Cano's inevitable extension, the plan to get under the $189M luxury tax threshold in 2014 looks impossible. That's a very simplistic way of looking at it though.
Had the Yankees signed Lee two winters ago, there's a chance they would have been willing to let CC Sabathia walk as a free agent once he triggered his opt-out clause last offseason. At the very least they probably would have been a little less desperate to work out a new contract. The new CBA was agreed to (or at least details were released) in late-November — the first report of the team's 2014 plan broke in early-December — and it's unlikely Sabathia would have signed before then. He would have been the best starter on the market and the top free agents usually don't sign until the Winter Meetings or later. The Yankees could have stayed in contact before backing away once the new CBA was announced.
On the other hand, they could have re-signed Sabathia and kept their lefty duo intact for the next few years. They probably would have never signed Hiroki Kuroda in that scenario but I think they still would have made the Jesus Montero-for-Michael Pineda trade. Two $20M+ pitchers means the other three spots would have had to have been filled by dirt cheap arms, and Pineda fit the bill. Maybe they would have kept Montero and targeted a lesser young pitcher instead, who knows. The what-if game has infinite possibilities.
I don't think that the plan to get under the luxury tax threshold by 2014 would have been scrapped all together had the Yankees signed Lee two offseasons ago. It would be much more difficult to achieve had they re-sign Sabathia last winter, but we have no way of knowing if that would have been the case. Having Lee last year also would have improved the team's chances of advancing beyond Game Five of the ALDS a great deal, and who knows how that would have impacted their planning.