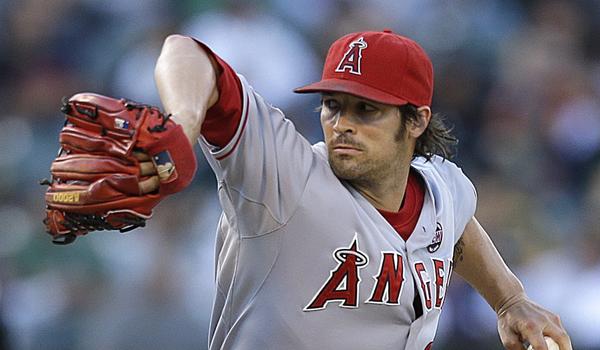 With Spring Training a week and change away, the Yankees seem to be comfortable with the status quo. That is, a rotation featuring Masahiro Tanaka, CC Sabathia, Michael Pineda, and two of Luis Severino, Luis Cessa, Chad Green, Jordan Montgomery, Adam Warren, Dietrich Enns, and Chance Adams. Despite the team's commitment to the rebuild/reload, many remain skeptical that the team will head into a new season with forty-percent of the rotation in the hands of relatively inexperienced pitchers; and yet their commitment to maintaining a (comparatively) low payroll and the lack of options available may not give them much of a choice. If only there was some way to scrape the bottom of the bargain bin and find some experience…
…enter C.J. Wilson. The 36-year-old wrapped-up his 5-year, $77.5 MM deal with the Angels last season, after producing roughly league-average marks across the board (96 ERA+, 2.0 bWAR/2.9 fWAR per-162). Of course, that's a bit misleading, as he hasn't pitched since 2015. Which leads to:
Injury History
Despite some misgivings about Wilson transitioning from reliever to starter back in 2010, he was the portrait of durability for five seasons. He made at least 31 starts and tossed at least 175.2 IP every season from 2010 through 2014. It looked to be more of the same in 2015, as he made his first 21 starts without incident. Unfortunately, his season ended after his July 28 start, as he underwent surgery to remove bone spurs from his left (pitching) elbow.
Wilson was slated to be ready in time for Spring Training in 2016, as the surgery was said to be a complete success. It's never quite that easy with pitchers, though, and his rehab started and stopped several times, as he experienced pain in his left shoulder. An MRI dismissed it as tendinitis, and a return engagement was set for May or June. That proved to be too ambitious, as Wilson's season ended before it started, and he had surgery to repair fraying in his labrum and rotator cuff.
Wilson began a throwing program in December, and there is talk that he'll have a showcase for teams within the coming weeks. A timetable for his return to a big league mound remains up in the air, however.
Recent Performance
Prior to going down with his elbow injury in 2015, Wilson was bouncing back nicely from his subpar 2014. Prior to his last start (from which he was removed with elbow pain), he had pitched to a 3.59 ERA (3.77 FIP) in 128.0 IP, with a 20.1 K%, 8.1 BB%, and 43.1 GB%. Those numbers are right in-line with his career norms, with the exception of his ground ball percentage. To wit: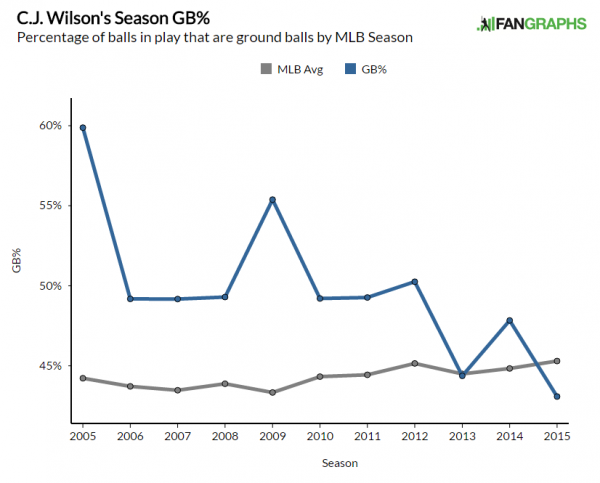 Wilson was good to great at burning worms for the majority of his career, but his ground ball rates have dipped to merely mortal levels of late. He has never been better than average at racking up whiffs or avoiding walks, so keeping the ball on the ground was the key to his success. The fact that he was mostly effective despite the lack of grounders in 2015 is an encouraging sign, though.
All told, in his six-ish seasons as a starting pitcher, Wilson threw 1171.1 IP of 3.76 ERA (3.78 FIP) ball, with close to league-average strikeout (20.3%) and walk (9.7%) rates.
Current Stuff
It's difficult to know what Wilson's current stuff is, because we haven't seen him throw a pitch in nearly 17 months. Prior to the injuries, however, his velocity remained fairly steady.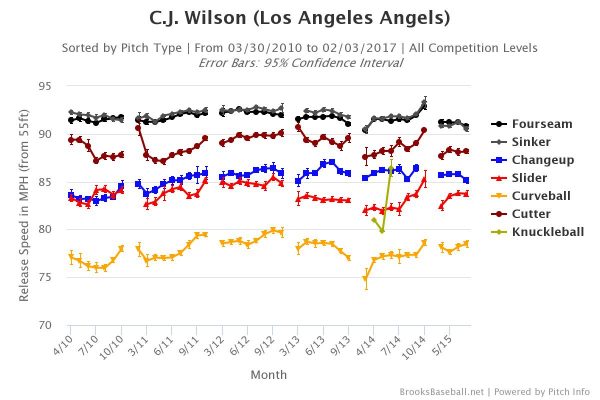 Wilson's four-seamer, change-up, curveball, and slider all remained fairly steady during his time as a starting pitcher, which is a good (if surprising) sign. His sinker velocity has dipped about two MPH since 2010, including nearly a full MPH between 2014 and 2015. His cutter has fluctuated in usage and velocity, as well. That may explain his decreased ground ball tendencies; whether or not it was a product of bone spurs and a frayed rotator cuff and labrum remains to be seen.
If we assume that Wilson would return with his stuff mostly intact, we would be discussing a true six-pitch pitcher, as he has thrown all six of his offerings at least 5% of the time as a starter. His ability to mix and match has allowed him to keep batters off-balance in the past, inducing weak contact even when the sinker wasn't sinking.
Contract Estimate
You couldn't see it, but I assure you that I just shrugged.
Neither FanGraphs, nor MLB Trade Rumors, nor ESPN hazarded a guess at Wilson's potential contract for 2017, and his market has been mostly quiet. The Marlins have been linked to him a few times, but nothing more substantial than tepid interest has been discussed. With a handful of healthy arms remaining on the market, it's difficult to imagine teams breaking down the door to offer Wilson something more than an incentive-laden deal – and perhaps a minor league deal with an opt-out, at that. Barring desperation from some team or a ridiculously brilliant showcase from Wilson, I don't see him getting more than that.
Does He Fit The Yankees?
I was interested in Wilson back when he signed with the Angels, and that intrigue still exists. It has been significantly tempered, of course, yet there are reasons to believe that he could fit in well with the Yankees.
Wilson was a solid starting pitcher the last time he took the mound, and his velocity indicators were mostly good. He's 36 and hasn't pitched in nearly a year and a half, which is disconcerting, but he also has less mileage on his arm than most starters of his age. A left-handed starting pitcher in Yankee Stadium will always be in demand, and Wilson's track record suggests that he could be a match (particularly if his ground ball rates recover). Small sample sizes and selective endpoints be damned, it's fun to note that Wilson sports a 2.73 ERA in 62.2 IP in Yankee Stadium,
There is no easy or legitimate way to explain away the risk, and I wouldn't suggest that we should even try to. The opportunity cost is likely to be quite low, though, and depth is never a bad thing. And even if the best-case scenario is a return engagement in the bullpen, Wilson has held lefties to a .201/.284/.286 slash line in his career, and has experience closing.