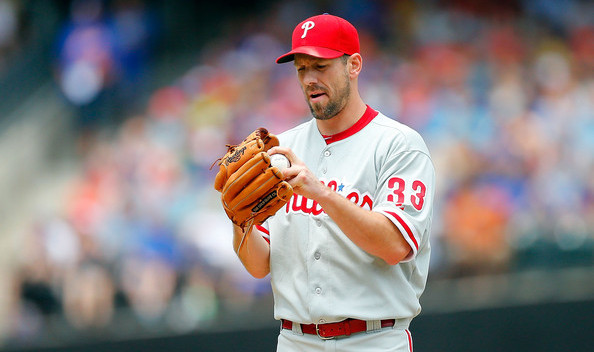 The Winter Meetings start Monday, and according to Buster Olney, the Yankees are having a ton of trade discussions with teams about many different players. The only constant: they're looking for young pitching in return. Not the first time we've heard that this offseason. Here are some other miscellaneous hot stove nuggets to pass along.
Cliff Lee intends to pitch in 2016
According to Jon Heyman, free agent left-hander Cliff Lee is currently throwing and has been cleared by doctors to resume pitching. He intends to pitch next season, as long as he finds a good fit. Lee missed most of the 2014 season due to a flexor strain in his elbow, then suffered a torn flexor this spring, which caused him to miss the 2015 season. The Phillies declined his $27.5M option after the season, instead paying a $12.5M buyout.
Lee, now 37, was still really good when healthy last year (3.65 ERA and 2.96 FIP in 81.1 innings), but that was a very long time and two serious arm injuries ago. Who knows what he can give a team right now. Brian Cashman and the Yankees are longtime fans of Lee. They've tried to trade for him on multiple occasions and tried to sign him as a free agent. Would it be a surprise if they reached out to him this offseason? No way. The questions are 1) does he consider the Yankees a good fit, and 2) will he come to camp as a non-roster invitee? Developing!
Yankees not all that interested in Johnny Cueto
This is not a surprise. According to George King, the Yankees don't have a whole lot of interest in free agent right-hander Johnny Cueto. They are keeping an eye on the market for Jeff Samardzija and Wei-Yin Chen, however. Without a sudden increase in payroll — which I guess is always possible — it's hard to see how the Yankees can afford a huge money starter like Cueto.
Cueto, who turns 30 in February, recently turned down a six-year contract worth $120M from the Diamondbacks, according to multiple reports. I think he'll end up closer to six years and $150M or so, which is Jon Lester money. Cueto struggled with the Royals down the stretch but had some truly ace-like moments in the postseason, plus his track record is outstanding. He's going to he paid. I just think if the Yankees were willing to go into the ~$25M a year range for a free agent starter like Cueto, they'd go the extra mile for David Price.
Yankees included in Jay Bruce's no-trade list
This doesn't seem all that important, but Jerry Crasnick reports the Yankees are one of eight teams included on Jay Bruce's no-trade list. He can block deals to the Yankees, Red Sox, Twins, Diamondbacks, Marlins, Athletics, Blue Jays, and Rays. Cincinnati has committed to rebuilding and it's only a matter of time until they trade Bruce, who hit a disappointing .226/.294/.434 (91 wRC+) with 26 homers in 2015.
The Yankees have no need for another outfielder at the moment, especially not another left-handed hitting one. I suppose they could target Bruce as a bounceback candidate should they trade Brett Gardner at some point, but I think they'd sooner go with Aaron Hicks and some young guys. Bruce, who is still only 28, has been hurt and not very good the last two years. He's owed $12.5M next year with a $13M team option for 2017. File this under: maybe relevant down the road.