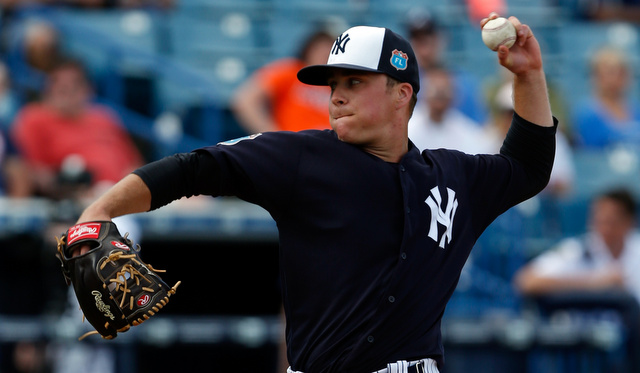 The Major League season opened earlier this week, and now it's time for the minor league season to follow suit. The Yankees' four full season affiliates open their regular seasons tomorrow night. Three of the four open at home. So, with that in mind, here are a bunch of minor league news and notes I had lying around.
Lindgren to begin in High-A Tampa
LHP Jacob Lindgren is going to begin the season with High-A Tampa, according to Josh Norris. Tampa, obviously, is a long way from Scranton. Brian Cashman confirmed to Chad Jennings that Lindgren is not hurt. Two things immediately jump to mind. One, the Yankees want Lindgren to stay away from the cold weather early in the season. It wouldn't be the first time they or any other team has done that.
Two, and I think the more likely explanation, the Yankees think Lindgren needs mechanical work and they want him to put in that work close to the home base in Tampa. Lindgren is coming off elbow surgery and he wasn't blessed with good control to start with, so it seems the Yankees are taking a step back and trying to get him right. What he's doing right now isn't working, so they're not going force it. It's not like they're lacking bullpen depth at Triple-A. This is the time to do it.
Minor league rosters announced
Rosters for three of the four full season affiliates were announced earlier this week. We're still waiting on High-A Tampa. Here are the links with some quick thoughts on the other three rosters:
Triple-A Scranton: C Eddy Rodriguez, not C Sebastian Valle, gets the job mentoring and backing C Gary Sanchez. The outfield is loaded (OF Ben Gamel, OF Slade Heathcott, OF Aaron Judge, OF Cesar Puello) and I expect all four to play pretty much every day, so the DH will be a rotation.
Double-A Trenton: RHP Brady Lail starting back with the Thunder is a bit surprising. Well, maybe not. He got roughed up in seven Triple-A starts last year. I bet he gets promoted before long. I'm a bit surprised to see OF Dustin Fowler here after only a half-season at High-A in 2015. Among the pitchers, I'm most looking forward to seeing what LHP Jordan Montgomery and RHP Ronald Herrera do this year.
Low-A Charleston: RHP Domingo Acevedo is the only must-watch guy on the pitching staff. IF Thairo Estrada, SS Kyle Holder, and SS Hoy Jun Park are probably going to share time at second, short, and third. OF Trey Amburgey and OF Jhalan Jackson in the outfield should be fun. No C Luis Torrens means he must still be in Extended Spring Training working his way back from shoulder surgery.
There is still one open spot on the Triple-A Scranton roster. They currently have 12 pitchers on the roster and I would not at all be surprised if they added for a 13th early in the season. They have to watch innings and make sure no one gets overworked early in the season, especially the actual prospects. Plus the extra arm will come in handy as relievers get shuttled in and out.
Based on the other rosters, we can deduce who is starting with High-A Tampa: RHP James Kaprielian, SS Jorge Mateo, 3B Miguel Andujar, IF Abi Avelino, RHP Jordan Foley, and OF Austin Aune are the notables. Hopefully LHP Ian Clarkin as well, assuming he's healthy. There's no reason to think he isn't aside from the fact he missed the entire regular season last year. Tampa looks like the most exciting affiliate this year, but that could change quick if Kaprielian and Mateo get promoted at some point, which seems likely.
Garcia out with shoulder soreness
According to Brendan Kuty, SS Wilkerman Garcia dealt with a sore right shoulder throughout the spring, and there is no timetable for his return. Garcia was still listed in a rehab workout group two weeks ago per Shane Hennigan, so he has not been shut down completely. He's been doing some kind of baseball work lately. Still though, you don't want one of your best prospects to have a sore shoulder.
Garcia, 18, signed for $1.35M as part of the 2014-15 international spending spree. He hit .299/.414/.362 (140 RC+) with more walks (25) than strikeouts (19) in 39 rookie ball games last year. Wilkerman was expected to begin the 2016 season in Extended Spring Training before joining one of the short season affiliates (Staten Island, most likely) in late-June, so we're not even going to notice he's missing from DotF. Hopefully this shoulder soreness is only minor and he's back to full strength soon.
Hebert undergoes Tommy John surgery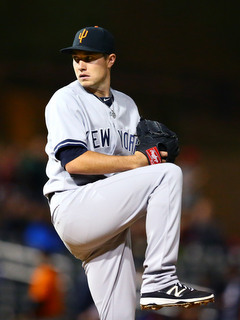 LHP Chaz Hebert, who really broke out with a strong 2015 season, recently had Tommy John surgery and will miss the 2016 season, farm system head Denbo confirmed to Chad Jennings. Hebert, 23, was a 27th round pick back in 2011. He bounced around the low minors for a while before pitching to a 2.55 ERA (3.11 FIP) in 134 innings last season, including a few appearances at Triple-A.
PitchFX data from the Arizona Fall League shows Hebert throws four pitches: four-seamer (averaged 90.0 mph), cutter (85.9), changeup (78.4), and curveball (73.8). The Yankees opted not to add Hebert to the 40-man roster last November following his big year, and he went unselected in the Rule 5 Draft. By no means is he a great prospect, but he's a lefty who can start, and those guys are always interesting.
Sands converting to catcher
In an interview with Mike Rosenbaum, 3B Donny Sands revealed he is moving behind the plate and converting to catcher. "I've bought into it, completely, which is the only way you really can get better regardless of the position you're moving to," he said. "It's a great opportunity the Yankees are giving me, and I've very thankful for it … It's a lot different than every other position; you get beat up and tired but still have to be the backbone out there and maintain focus. I like being mentally involved on every pitch."
Sands, 19, was the team's eighth round pick out of an Arizona high school last year, and he hit .309/.395/.361 (133 wRC+) in 55 rookie ball games as a third baseman after signing for $100,000. Pre-draft scouting reports lauded his strong arm, soft hands, and baseball instincts, all of which he'll need behind the plate. Converting to catcher is not easy — not everyone takes to it as quickly as Torrens or John Ryan Murphy — so we'll see how long it takes Sands' defense to catch up to his bat. The move to catcher is a great opportunity for him to raise his stock.
Baseball America's international review
The great Ben Badler posted his annual international reviews over the last ten days or so. The main Yankees review is behind the paywall, so I can't share too much, but the team signed 57 (!) players last year. Ridiculous. That covers the 2015 calendar year, so the second half of the 2014-15 signing period and the first half of the 2015-16 signing period. Here are some associated links that are not behind the payroll:
Total Signings by Team: No other team signed more than 48 prospects last year. The average was 26 signings by the 29 non-Yankees teams. The Yankees more than doubled that.
Total Spending by Team: The Yankees handed out $3.42M in total bonuses last year, ranking 16th out of the 30 clubs. Remember, they were limited to bonuses of $300,000 or less after July 2nd last year as a result of the penalties from the 2014-15 signing period.
Top 40 Bonuses: The Yankees did not give out one of the 40 largest international bonuses last year because they couldn't. They signed all their big money 2014-15 guys in July 2014. Last year they had to deal with the penalty.
The only player the Yankees signed for the maximum $300,000 bonus after July 2nd last year was Venezuelan SS Jesus Bastidas. Badler calls him "a sure-handed shortstop" with the tools to remain at the position, and added he has "quick, strong hands and the ball jumps off his bat well already for his size." Dominican RHP Luis Medina ($280,000) is already touching 100 mph. The team also signed Dominican OF Estevan Florial ($200,000) last year. We've heard quite a bit about him recently.
The Yankees scout Latin America very well and they have a history of hitting home runs with lower bonus guys. Both Luis Severino ($225,000) and Mateo ($250,000) signed on the relative cheap, for example. I'm sure those 57 players are more quantity than quality because of the $300,000 limit, but still, the Yankees are really good at finding top shelf talent at bargain prices. I'm sure more than a few are good prospects.
Yankees sign one, release 17
According to Matt Eddy, the Yankees have signed one player and released 17 in recent weeks. Let's start with the 17 who have been released:
Pitchers: RHP Andre Del Bosque, LHP Derek Callahan, LHP Ethan Carnes, LHP Andrew Chin, RHP Geoff DeGroot, RHP Cory Jordan, LHP Conner Kendrick, LHP Anthony Marzi
Position Players: 1B Matt Duran, OF Greidy Encarnacion, OF Joey Falcone, OF Dominic Jose, 3B Renzo Martini, IF Ty McFarland, C Alvaro Noriega, IF Junior Valera, C Matt Walsh
Duran and McFarland are the most notable of the bunch. Duran was the team's fourth round pick in 2011, but he didn't hit (88 wRC+) and only played 128 games in five seasons due to injuries. McFarland was a draft pool saving tenth round pick in 2014 and he had decent numbers (106 wRC+), but he was old for every level he played. Jose had some tools. It just didn't come together.
The player the Yankees signed is 2B Chris Godinez, who was released by the Dodgers recently. The 22-year-old was an 18th round pick just last year, and he hit .226/.385/.301 (93 wRC+) in 30 rookie ball games after turning pro. He's a speed guy with great college stats (.302/.505/.510 at Bradley last spring) but no real standout tool beyond his legs. Looks like a depth pickup for the low minors.