Now that the All-Star break has arrived, it's time to look back and review the first half of the season. We've already looked at the catchers, infielders, outfielders, bench, rotation, bullpen, and role players. Now let's go down into the farm system.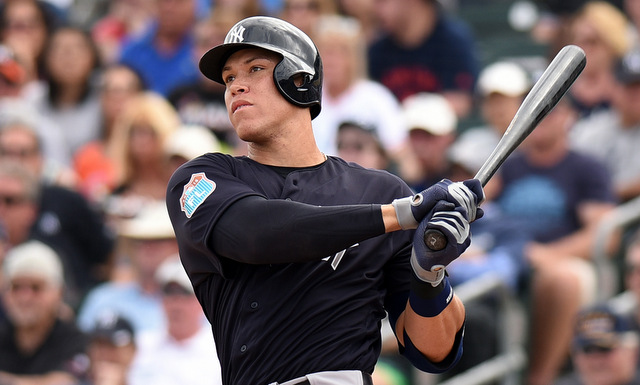 The Yankees are a team in transition. They're trying to get younger wherever possible while waiting out the last few years of all those big money contracts. Most of them will be off the books by the end of next season. There's no denying the Yankees have had their problems developing players over the last few years, but that doesn't lessen the importance of the farm system. If anything, it makes the farm system more important going forward. Let's review the first half of 2016 in the minor league system.
The Top Prospects
The order may vary, but pretty much everyone was in agreement OF Aaron Judge, C Gary Sanchez, and SS Jorge Mateo were the Yankees' three best prospects coming into the season. I ranked them in that order in my Preseason Top 30 Prospects List. Others had Mateo first and Judge third. The order doesn't really matter. Those were the three guys.
Judge and Sanchez both opened the year in Triple-A and they've had very different seasons. Judge has been up and down. He started well, slumped hard in May, then caught fire in June. At one point he hit nine home runs in 15 games. Overall, Judge is hitting .261/.357/.469 (139 wRC+) with 16 homers and a strong 11.4% walk rate in 83 games. His strikeout rate, which was the No. 1 concern coming into 2016, sits at 23.2%, down from 28.5% in Triple-A last year. Judge unfortunately hurt his knee last week and will be out a month.
Sanchez, meanwhile, has mashed pretty much all season. He hasn't had the big peaks and valleys like Judge. Sanchez, who is still only 23, is hitting .286/.328/.489 (133 wRC+) with nine homers in 56 games around a fractured thumb caused by a foul tip. My favorite thing about Sanchez is the progression of his strikeout rate:
Low-A: 25.0%
High-A: 19.2%
Double-A: 18.7%
Triple-A: 16.3%
Sanchez is making more contact as he climbs the ladder, and his defense is improving too. That's pretty awesome. He and Judge factor prominently into the team's long-term plans. The Yankees envision these two as not only as their catcher and right fielder of the future, but their middle of the lineup of the future too. They're both having success in Triple-A right now, which is exactly what the Yankees wanted to see this summer.
As for Mateo, he's down in High-A and gosh, he had an incredible start to the season. He was hitting .299/.364/.485 (149 wRC+) with five homers on June 1st — last year Mateo hit two homers, one of which was an inside-the-parker — and he looked very much like an electric power-speed threat at shortstop. Since then though, Mateo has hit only .211/.250/.246 (46 wRC+) in 122 plate appearances, and last week the Yankees suspended him for violating team policy. He reportedly complained to team officials about not being promoted. Not great, Jorge.
Both Sanchez and Judge are performing as hoped in Triple-A, which puts them in position to assume fairly prominent roles with the 2017 Yankees. It's not out of the question we see them with the Yankees in the second half. Mateo has had a fine statistical season — he's hitting .266/.323/.396 (112 wRC+) overall even with the recent slump — but this suspension is a bummer, regardless of why it happened.
The Breakout Prospect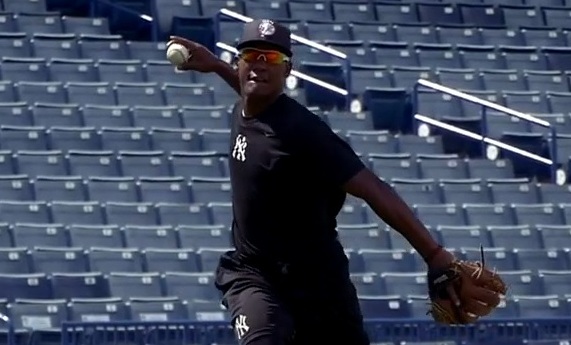 There has been no bigger breakout prospect in the system this year than 3B Miguel Andujar, who always had the tools to be a high-end prospect, but had not yet turned those tools into baseball skills. He's doing that this year, hitting .291/.343/.446 (128 wRC+) with ten homers and a measly 11.4% strikeout rate in 83 games split between High-A and Double-A. We've been waiting a while for Andujar to put it all together, and it's happening this year.
The other notable breakout prospect this year is a reliever turned starter. The Yankees took last year's fifth rounder, RHP Chance Adams, and moved him into the rotation this season because of his stuff and pitchability. The results have been better than anyone expected. Adams has a 2.63 ERA (2.97 FIP) with a 29.4% strikeout rate and a 7.5% walk rate in 85.2 innings between High-A and Double-A. He still has work to do with his changeup, but Adams is able to hold his stuff deep into games, which is always a big question with these reliever-to-starter conversation guys.
Perhaps the most interesting breakout prospect is an older guy: 26-year-old C Kyle Higashioka. Higashioka was the Yankees' seventh round pick back in 2008, and this year he's hitting .321/.379/.589 (168 wRC+) with 14 homers in 62 games between Double-A and Triple-A. He's dealt with a bunch of injuries over the years, including Tommy John surgery, but he's finally healthy now. Higashioka has always had power and he's the best defensive backstop in the system. Catchers tend to be late-bloomers moreso than any other position. Higashioka may be 26, but they don't check IDs on the field. A good defensive catcher with power is a legitimate big league prospect.
Other prospects who have raised their stock in the first half this season include RHP Vicente Campos, OF Jake Cave, and SS Tyler Wade. All three have been on the prospect map for a while. Campos is healthy for the first time in years and is having success as a starter, really for the first time since coming over in the Jesus Montero-Michael Pineda trade. Cave has developed some power after being returned as a Rule 5 Draft pick this spring. Wade is doing the bat control/strike discipline/good defense thing in Double-A.
The Inevitable Injuries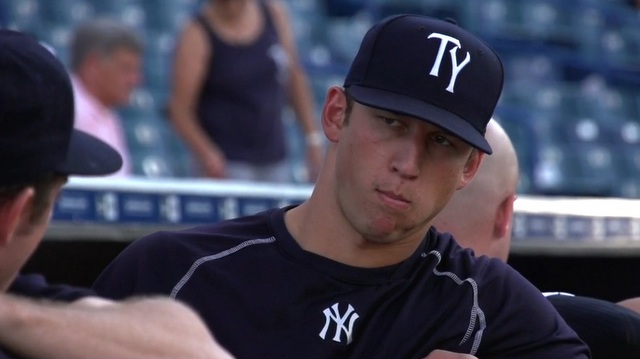 Injuries come with the territory and they're unavoidable. The biggest injury in the system this year is RHP James Kaprielian's elbow injury, which was only recently diagnosed as a flexor tendon strain. Kaprielian, who was the Yankees' first rounder last year, was limited to three High-A starts this year. That's a bummer. He was expected to shoot up the ladder rather quickly. There's no timetable for Kaprielian's return, as far as we know.
Elsewhere in the system, LHP Jacob Lindgren came down with an elbow injury after completely losing the strike zone in High-A. He threw seven innings and hasn't been heard from since. RHP Ty Hensley had to undergo a second Tommy John surgery, unfortunately. The team's first rounder in 2012 has thrown 42.1 innings in parts of five seasons. Ouch. RHP Nick Rumbelow and RHP Branden Pinder had their elbows rebuilt early in the season too.
One of the biggest names — and longest tenured players — in the system saw his time with the organization come to an end following an injury. OF Slade Heathcott, who the Yankees selected in the first round way back in 2009, hit .230/.271/.310 (58 wRC+) with a 32.0% strikeout rate in 23 Triple-A games before coming down with another knee problem. He's had a bunch of those over the years. The Yankees released Slade in May and he hooked on with the White Sox a few weeks later.
The Prospects Returning From Injury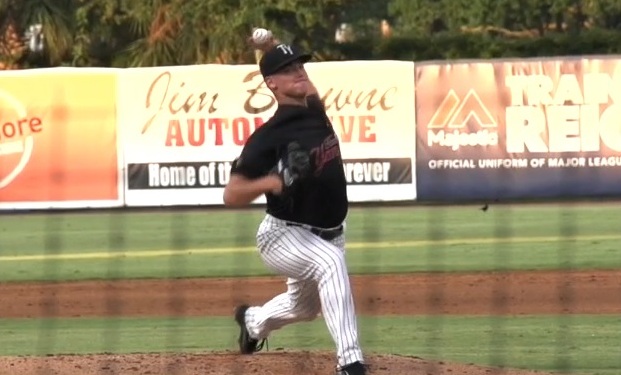 Last year the Yankees seemed to have an inordinate number of full season injuries in the farm system. Several big name prospects missed the entire season, including C Luis Torrens (shoulder), LHP Ian Clarkin (elbow), RHP Domingo German (elbow), and RHP Austin DeCarr (elbow). Clarkin avoided the knife. The other three guys all had surgery. All things considered, their 2016 seasons have gone well to date.
Clarkin was one of New York's three first round picks in 2013, and so far this season he has a 3.12 ERA (3.16 FIP) in 95.1 innings with High-A Tampa. He's not only avoided another injury, he's gotten stronger as the season has gone on. When it comes to the first 100 innings back following a lost season, Clarkin's season has gone about as well as hoped this year. He's healthy and he's getting outs.
Torrens, German, and DeCarr all returned within the last few weeks and haven't played much. German and DeCarr went through the usual 14-16 month Tommy John surgery rehab — it used to be 12 months, but nowadays teams are stretching it out a bit more — while Torrens was said to be ready to go in Spring Training. He had to be shut down with shoulder discomfort though. Torrens is the healthy now and he's picked up right where he left off before the injury.
Other Notables
RHP Domingo Acevedo is having an excellent statistical season but still has to work on his secondary pitches … OF Dustin Fowler has climbed the ladder rather quickly after being a two-sport guy in high school and an 18th round pick in 2013. He's have a good but not great season in Double-A … LHP Jordan Montgomery is inching closer to being a big league option after a strong half-season in Double-A … SS Hoy Jun Park, who was part of that big 2014-15 international class, is having a solid two-way season in Low-A … SS Kyle Holder is still playing the heck out of shortstop, but he's not hitting much in Low-A … LHP Jeff Degano spent most of the first half in Extended Spring Training, apparently because he's no longer able to throw strikes.
* * *
Kaprielian's injury and Mateo's recent suspension have put a bit of a damper on the top prospects in the system, but Judge and Sanchez are having strong seasons in Triple-A, Andujar and Adams are breaking out, and both Clarkin and Torrens have returned well after missing last season with injury. The Yankees haven't been able to dip into their farm system for help like they did last year, when RHP Luis Severino and 1B Greg Bird had an impact in the second half, but the tippy top prospects are performing well and the key injured prospects have come back strong. That qualifies as a good season in the minors to me.