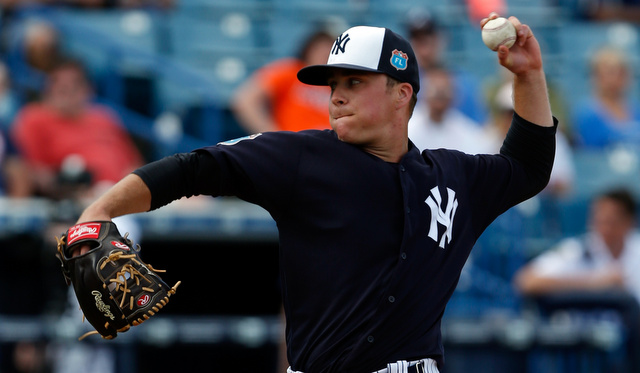 Sunday: Well, so much for that. Lindgren has signed a one-year Major League contract with the Braves, the team announced. They've had a thing for hoarding ex-Yankees the last few years. I'm guessing the Yankees wanted to retain Lindgren on a minor league deal, but once Atlanta offered a big league contract, that was that.
Friday: Prior to tonight's deadline, the Yankees non-tendered left-hander Jacob Lindgren, the team announced. He's now a free agent. All other pre-arbitration and arbitration-eligible players received contract offers. The Yankees now have one open spot on the 40-man roster.
Lindgren will miss the entire 2017 season following Tommy John surgery, and his non-tender is not entirely unexpected. Chances are the Yankees will look to re-sign him to a minor league contract now, which allows them to keep him in the organization as a non-40-man player.
The Yankees have made the non-tender/re-sign move several times in the past, most notably with Slade Heathcott, Vicente Campos, and Domingo German. They were all hurt at the time too. The non-tender allows the Yankees to remove Lindgren from the 40-man without exposing him to waivers.
Lindgren, 23, threw only seven innings this past season, during which he walked nine and uncorked six wild pitches with High-A Tampa. He landed on the disabled list shortly thereafter and had Tommy John surgery later in the summer. Sucks, but what can you do?
The open 40-man roster spot means the Yankees will be able to make a selection in the Rule 5 Draft next Thursday. They haven't made a Rule 5 Draft pick since 2011. Odds are against it, but who knows. Maybe they take a flier on a bullpen arm or a Josh Phelps type for first base depth.