The Yankees went into the season thinking Andruw Jones was going to be their designated left-handed pitching masher, and for the first half of the season he was. Things went horribly wrong for Jones in the second half, and when coupled with Alex Rodriguez's hand injury in late-July, the Yankees were suddenly very light on right-handed power and thus susceptible to lefty pitching. They acquired two players to help fill that void, neither of whom worked out.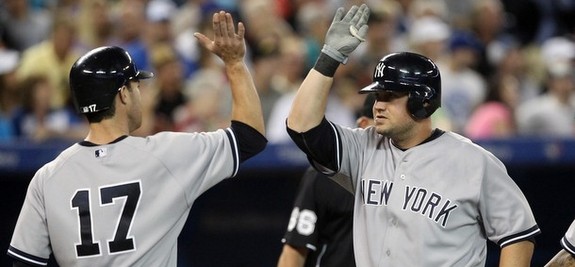 Casey McGehee
Acquired from the Pirates for Chad Qualls (!) just prior to the trade deadline, the 30-year-old McGehee brought with him a track record of hitting southpaws and an 86 wRC+ in 293 plate appearances for Pittsburgh. He bounced between first and third bases in his first few starts with New York, and he actually hit well early on: 6-for-21 (.286) with three doubles, three walks, and the team's third longest homer of the season. McGehee looked like a shrewd deadline pickup, but instead things fell part.
He went 2-for-22 (.091) with six strikeouts and no walks in his next seven games, and fell so out of favor that the Yankees sent McGehee all the way down to Low-A Charleston. It was a procedural move that allowed the team to recall him sooner than the usual ten days. All told, McGehee hit just .151/.220/.264 (28 wRC+) in 59 plate appearances with the Yankees, including 7-for-37 (.189) against lefties.. He was obviously left off the postseason roster, and after the season he elected free agency after being removed from the 40-man roster.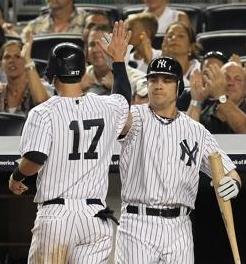 Steve Pearce
The Yankees originally signed Pearce way back at the end of Spring Training, and he spent two months absolutely mashing in Triple-A (173 wRC+). Pearce exercised an opt-out clause in his contract in early-June, forcing the Yankees to either release him or trade him to a team willing to place him on their 25-man big league roster. A few days later he was dealt to the Orioles for cash, but nearly three months after that he was back in pinstripes — the Yankees acquired Pearce from the Astros for cash after Houston claimed him off waivers from Baltimore earlier in the summer.
Pearce, 29, made his debut with the team as the cleanup hitter against the Blue Jays on August 28th, and he responded by scoring the winning run on a walk, wild pitch (move to second), ground out (move to third), and sacrifice fly. Pearce hit a two-run homer against the Orioles two weeks later, but that was pretty much it. He hit .160/.300/.280 (66 wRC+) in only 30 plate appearances with the team, including a 4-for-24 (.167) mark against southpaws. The Yankees designated Pearce for assignment when Brett Gardner came off the DL in late-September, and the Orioles subsequently claimed him off waivers. That was that, neither he nor McGehee contributed much to the team's cause in 2012.