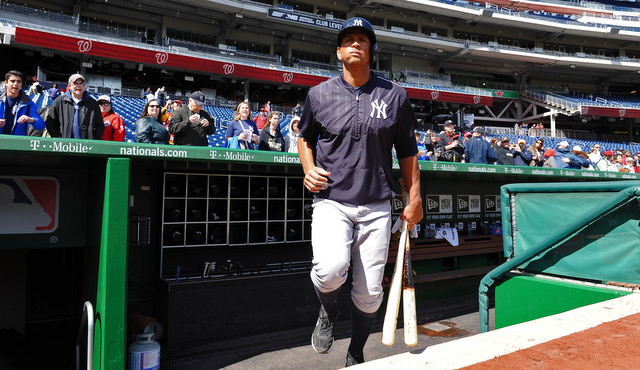 3:25pm: The Yankees have officially announced their Opening Day roster. It is exactly as presented below. No surprises.
10:00am: The Opening Day roster has been slowly coming together over the last several weeks, and yesterday afternoon the Yankees made the roster all but official with their latest round of moves, including Austin Romine being designated for assignment. Here is the 25-man roster the Yankees will take into the regular season tomorrow:
CATCHERS (2)
Brian McCann
John Ryan Murphy
INFIELDERS (7)
Stephen Drew
Didi Gregorius
Chase Headley
Garrett Jones
Gregorio Petit
Alex Rodriguez
Mark Teixeira
OUTFIELDERS (4)
Carlos Beltran
Brett Gardner
Jacoby Ellsbury
Chris Young
STARTERS (5)
Nathan Eovaldi
Michael Pineda
CC Sabathia
Masahiro Tanaka
Adam Warren
RELIEVERS (7)
Dellin Betances
David Carpenter
Chris Martin
Andrew Miller
Esmil Rogers
Chasen Shreve
Justin Wilson
DISABLED LIST (4)
Chris Capuano (quad) — retroactive to March 27th
Ivan Nova (Tommy John surgery) — retroactive to March 27th
Jose Pirela (concussion) — retroactive to April 2nd
Brendan Ryan (calf) — retroactive to April 1st
Pirela was placed on the 7-day concussion DL while Capuano, Nova, and Ryan were all placed on the regular old 15-day DL. Petit takes Romine's spot on the 40-man roster, which is full. The Yankees can transfer Nova to the 60-day DL whenever they need another 40-man spot since he's not expected to return until June. Romine, Petit, and the DL assignments were the moves announced yesterday.
Despite those injuries, the Yankees made it through Spring Training as the healthiest team in the AL East, just as we all expected. The rest of the roster is pretty straight forward. Warren was named the fifth starter a few days ago and it was clear Shreve and Martin were going to make the Opening Day roster once Chase Whitley was optioned to Triple-A. Joe Girardi is planning to use Betances and Miller as co-closers to start the season, which is pretty cool. Hopefully it works as planned. Carpenter and Wilson figure to be the sixth and seventh inning guys.
As always, the 25-man roster is going to change throughout the course of the season. Quite a bit too. Petit figures to be replaced by Pirela or Ryan, whoever gets healthy first, and those bullpen spots belonging to Shreve and Martin could be revolving doors given the team's relief pitcher depth. That includes Capuano, who could wind up working in relief if Warren fares well as the fifth starter. For now, this is the group of Yankees to start the new season.