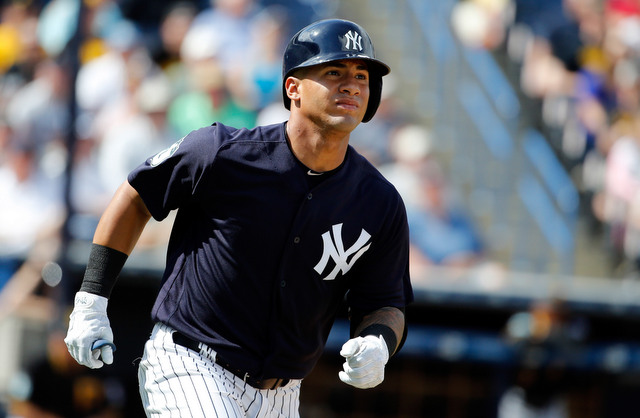 This is still a weird and awesome and completely true statement: the Yankees are loaded with exciting up-and-coming young talent. Last year's trade deadline activity combined with breakouts from incumbent prospects give New York the game's consensus No. 2 farm system behind the Braves. The 2016 draft helped too. That was cool.
The Yankees are, in their words, a team in transition. They're trying to get younger while remaining competitive, which is both an excellent goal and difficult to do. Young players tend to come with growing pains. Even the most talented ones. Not everyone hits the ground running like Gary Sanchez. Usually they hit some bumps in the road, like Aaron Judge and Luis Severino.
The "remaining competitive" stuff is a topic for another time. This entry into our season preview series is dedicated to all the ladies out there the great farm system the Yankees have built. Let's preview the upcoming season in the minors. Here is my top 30 prospects list, if you've somehow missed it.
Top Prospects Who Could Help In 2017
Depending on the scouting publication, the Yankees have anywhere between six (Keith Law) and nine (Baseball Prospectus) top 100 caliber prospects in the farm system. One of those players is Judge, who we previewed two weeks ago. As always, top 100 prospects are not all created equal. Some are much closer to the big leagues than others. The Yankees have a little of everything with their top 100 guys.
The best prospect in the farm system and one of the very best in all of baseball is, as you know, SS Gleyber Torres. He came over in last summer's Aroldis Chapman trade and blew everyone away in Spring Training. Torres hit .448/.469/.931 with six doubles and two homers in 32 Grapefruit League plate appearances, which was enough for folks to want him to replace the injured Didi Gregorius. That won't happen. The Yankees have already sent Gleyber to minor league camp and he'll open the season in Double-A.
That said, I definitely believe the 20-year-old Torres has a chance to help the Yankees later this year, likely in the second half. Similar prospects have made their MLB debuts at age 20 after starting the season in Double-A. Some things will have to happen first — Torres has to hit, the Yankees have to need him, etc. — but there's a chance Gleyber will force the issue at some point and make the team think about calling him up. Special talents have accelerated timetables.
OF Clint Frazier, who would be the No. 1 prospect for many other teams, is the No. 2 prospect in the farm system. He came over in the Andrew Miller trade. Frazier, 22, reached Triple-A last season and will return there to start this season. (He hit .308/.300/.487 in camp. I do love silly AVG > OBP lines.) Given his proximity to MLB, Frazier is much more likely to reach the show this season than Torres. The Yankees will have to make room for him somehow, but they'll figure it out. Frazier is a potential impact bat and lineup cornerstone, and we'll see him in the Bronx at some point this summer. I'm sure of it.
Among New York's other top 100 prospects, the only other one I could see reaching the big leagues this season is RHP James Kaprielian, and that's a long shot. Kaprielian is healthy after missing nearly the entire 2016 regular season with a flexor strain, though the Yankees are going to take it slow with him early in the season. He threw nothing but simulated games the first few weeks of Spring Training before finally getting into a Grapefruit League two weeks ago. Kaprielian threw two innings and was sent to minor league camp the same day.
What needs to happen for Kaprielian to reach MLB in 2017? He has to stay healthy, for starters. Secondly, he's going to have to pitch well enough to climb from High-A to Double-A to Triple-A to MLB. Climbing three levels in one year isn't easy, but it has been done before. Both Ian Kennedy and Joba Chamberlain did it in 2007. And third, the Yankees have to believe Kaprielian is one of their best rotation options. They won't call him up for the hell of it. There are 40-man and service time considerations in play.
My guess right now is no, Kaprielian will not make his MLB debut this season. Sorry to be a buzzkill. As long as he stays healthy, I expect Kaprielian to pitch very well — he should carve up High-A hitters — and reach Triple-A late in the season. We'll then complain the Yankees aren't calling him because he is clearly better than one of the starters the Yankees are running out there every five days, right? That's usually how it goes.
Top Prospects Who Probably Won't Help In 2017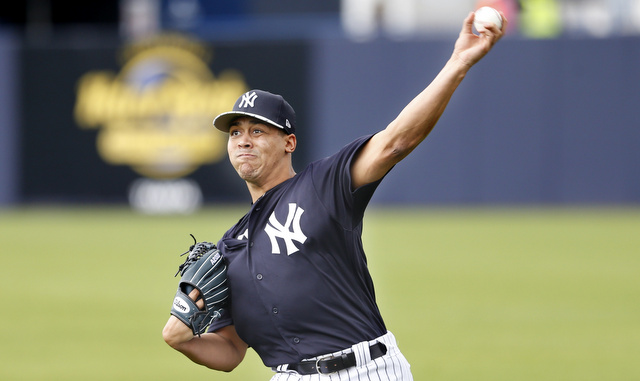 The Yankees have three consensus top 100 prospects who are unlikely to play in the big leagues this year, at least not in a meaningful way. LHP Justus Sheffield, another part of the Miller trade, is a three-pitch southpaw with good velocity. He is still only 20 and is ticketed for Double-A. I expect him to spend just about the entire season there. He might make a late-season Triple-A cameo, but that's about it. Besides being so young, Sheffield needs to improve his command before being an MLB option.
SS Jorge Mateo might soon be CF Jorge Mateo. The Yankees have been moving their shortstop prospects around — Torres has played second base and has worked out at third, for example — in an effort to increase their versatility. Mateo is a good defender at short, though center field would better allow him to use his elite speed on the defensive side of the ball. Either way, shortstop or center field, Mateo has to do more with the bat. He didn't hit much last season and hitting coach Alan Cockrell is working with him to widen his stance this spring.
Now, that all said, I do think Mateo has a chance to make his MLB debut in 2017. He was added to the 40-man roster over the winter to avoid Rule 5 Draft exposure, which means the Yankees could turn to him as their annual September designated pinch-runner. They very much believe in that role — they picked up Eric Young Jr. and Rico Noel at midseason to fill that role the last two years — and Mateo is an 80 runner, so it's hard to think they'll drum up a better option at some point.
There are two things to keep in mind though. One, Mateo wasn't a great basestealer last season — he went 36-for-51 (71%) in steal attempts in 2016 — and the Yankees are said to be working with him to improve his reads and things like that. And two, being in the big leagues is a privilege and something a player has to earn. If Mateo has another disappointing season, the Yankees could very well turn to another pinch-runner option rather than reward Mateo will a month in MLB. I think it's possible we'll see him as the September pinch-runner, but it's far from certain.
The best top 100 caliber prospect in farm system we 100% will not see in the big leagues this coming season is OF Blake Rutherford, last year's first round pick. Rutherford was a consensus top ten talent in the draft class — Keith Law (6th), MLB.com (8th), and Baseball America (9th) all ranked him highly among draft prospects — who slipped to the Yankees with the 18th pick for kinda dopey reasons. One, he turned 19 in May and was a few months older than most high school draftees. And two, he wanted a large bonus. Those seem like not great reasons to pass on him, but whatever.
Rutherford projects as a classic No. 3 hitter who can hit for average and power, and also draw a healthy amount of walks. His placement in the various top 100 lists tells you how highly he's regarded. He didn't just sneak onto the back of those lists. He was in the top half. At the same time, Rutherford will spent most of the season at age 20 and he's going to start at Low-A. Not a big league option. A very talented prospect? Hell yes. But not a big league option in 2017. Not close.
Two consensus non-top 100 prospects who I consider among New York's better prospects are RHP Albert Abreu and 3B Miguel Andujar. Abreu came over in the Brian McCann deal and he might have the highest upside of any pitcher in the farm system. He's got mid-90s gas and both his slider and changeup look like out pitches on their best days. At the same time, Abreu is a 21-year-old with only 11.2 High-A innings under his belt. He's going to spend the majority of this season at that level. An MLB call-up ain't happening. Not this year.
Andujar is a personal fave and I feel like he gets lost in the depth of the farm system. His best tools are his raw power and throwing arm, and last year he started to make some real strides with his approach at the plate. Andujar wasn't a big time hacker or anything, but he makes easy contact and had a tendency to swing at anything in the zone. He did a better job recognizing which pitches he could hammer and which he should let go last year. I'm expecting big things in 2017. A September call-up isn't out of the question because Andujar is on the 40-man roster, though I would be surprised if helped the Yankees in a more substantial way this summer.
The Secondary Prospects Likely To Help In 2017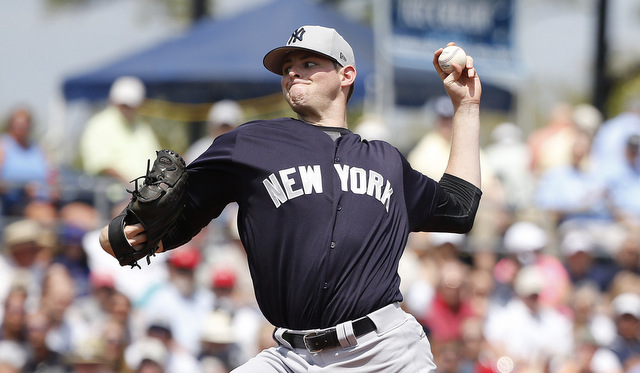 The depth of the farm system is on display when you look at the second and third tier prospects who figure to help the Yankees in 2017. LHP Jordan Montgomery has already put himself in the mix for an Opening Day roster spot with a strong spring. SS Tyler Wade added the outfield to his skill set in the Arizona Fall League and he's now being considered as Gregorius' replacement at short. I'm not sure that'll happen, but the fact he's being considered shows the Yankees think he's at least close to MLB.
OF Dustin Fowler and RHP Chance Adams are both slated to open the season in Triple-A — Wade and Montgomery will be there as well if they don't make the Opening Day roster — and are coming off very strong 2016 seasons. Breakout seasons, really. (Definitely in Adams' case.) The odds of the Yankees needing a pitcher are much greater than the odds of them needing an outfielder for obvious reasons — besides, Frazier and OF Mason Williams figure to be ahead of Fowler on the call-up depth chart — but the fact these two are starting in Triple-A makes them big league possibilities. Once you get to that level, everyone is a call-up candidate.
Other prospects we could see in the Bronx this year include Williams, C Kyle Higashioka, RHP Ben Heller, RHP Jonathan Holder, LHP Dietrich Enns, RHP Ronald Herrera, RHP Gio Gallegos, and RHP J.P. Feyereisen. All except Feyereisen are on the 40-man roster. Heller is the best bullpen prospect in the farm system in my opinion, though Holder, Enns, and Gallegos all have great minor league numbers. Those dudes will all be part of the bullpen shuttle this summer. No doubt about it. Higashioka will, at worst, be a September call-up. He's the third catcher.
Breakout Candidates
Abreu has already been mentioned and he's the biggest breakout candidate in the farm system, I think, at least among pitchers. He's already got four pitches — well, the makings of four pitches, I should say — and is in need of more refinement than anything. Better command, get more consistently with the delivery, things like that. Abreu doesn't have to learn a changeup or anything like that. The pieces are there for him to become no-doubt top 100 prospect next spring.
On the position player side, 3B Dermis Garcia is a dude I'm very excited to follow this summer. He has 80 raw power on the 20-80 scouting scale — 80 raw power and 80 game power are different things! — and is a better pure hitter than his .206/.326/.454 (114 wRC+) batting line and 34.3% strikeout rate with rookie Pulaski last year would lead you believe. Garcia turned only 19 in January and it's looking like he'll spend the season at Low-A. Some progress with his approach, meaning not swinging out of his shoes each time he deems a pitch hittable, could turn Dermis into a top 100 guy. That's a lot to ask, but the talent is there.
Other recent international signees like SS Hoy Jun Park, RHP Domingo Acevedo, SS Wilkerman Garcia, SS Diego Castillo, OF Leonardo Molina, and especially OF Estevan Florial are potential breakout candidates this year. Acevedo needs to continue to improve his breaking ball if he wants to remain in the rotation long-term. Florial has outrageous tools. His power, speed, and throwing arm all rate near the top of he scale. He just needs to tone down his ultra aggressive approach. Florial can swing-and-miss with the best of 'em.
It's odd to consider a former fourth overall pick a breakout candidate, but RHP Dillon Tate qualifies. He came over from the Rangers in the Carlos Beltran trade after Texas soured on him. Tate, who was drafted in 2015, hurt his hamstring early last season and had difficulty adjusting to some mechanical changes the Rangers asked him to incorporate. The Yankees told him to forget about that and go back to his old mechanics, and by time the AzFL rolled around, his fastball was averaging 98.0 mph and topping out at 99.6 mph, per PitchFX. Yeah.
Of course, that 98.0 mph average heater came in a short burst and no one expects him to sit there as a starter. The Yankees will return Tate to the rotation this year — he worked multi-inning stints out of the bullpen after the trade last year so they could work on his mechanics — though it should be noted that even at his best, there was some thought Tate would wind up in the bullpen long-term because his fastball is straight and his changeup is still a work in progress. Point is, the Yankees bought low on Tate and are working to get him back to his fourth overall pick form, and he looked better in the AzFL than he did at any point with the Rangers before the trade.
If you're looking for an Adams caliber breakout candidate, that reliever-turned-starter prospect, don't. Seriously. What Adams did last year was best case scenario stuff. Hard to expect that again, though I'd happily welcome it. The best reliever-turned-starter prospect candidate in the system is Tate, though that's not a true reliever-to-starter conversion. In that case, RHP Taylor Widener is the best bet. He was the team's 12th round pick in last year's draft.
Widener is the latest in a string of Yankees prospects to gain velocity in pro ball — Kaprielian, Montgomery, and Adams all did that — and he has a good slider, albeit an inconsistent one. His changeup has been a point of emphasis since the draft. I'm not sure Widener can make the transition to the rotation as seamlessly as Adams, though then again I never thought Adams would take to the role as easily as he did. Widener is more of a sleeper than a true breakout prospect.
Bounceback Candidates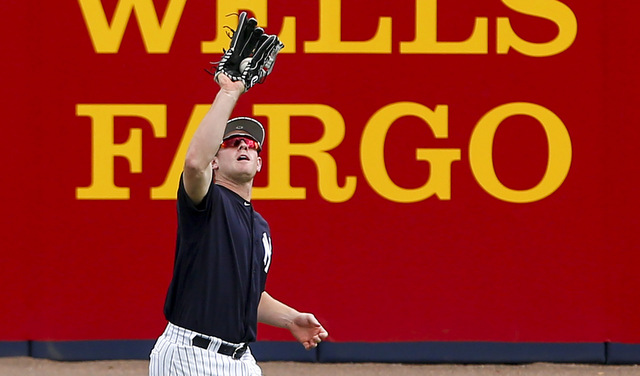 Last year was a great year for the farm system, though it wasn't perfect. A few players had disappointing seasons, most notably Mateo. The Yankees are hoping he bounces back in a big way this summer. Kaprielian too following the elbow injury. Tate is another bounceback candidate. Can a player be a bounceback candidate and a breakout candidate in the same season? I guess so. Garcia (Wilkerman, not Dermis) is a bounceback candidate despite being 18. He was great in 2015 and looked like a potential top 100 guy. He then battled through a shoulder issue and had a poor statistical season in 2016.
Aside from Mateo, I think the biggest bounceback candidate in the farm system on the position player side is OF Billy McKinney, who put together an impressive Grapefruit League showing (.417/.517/.917 with four walks and one strikeout in 29 plate appearances) before being reassigned to minor league camp. McKinney came over in the Chapman trade and was better with the Yankees than the Cubs, though his overall 2016 season was underwhelming. The former first rounder hit .256/.349/.363 (107 wRC+) at Double-A. Meh.
The spring performance was nice, though that's not the reason McKinney is a bounceback candidate. He hit .300/.371/.454 (135 wRC+) between High-A and Double-A two years ago, and was ranked as a top 100 prospect prior to both 2015 (Baseball America and Baseball Prospectus) and 2016 (MLB.com, Keith Law, BP). McKinney's 2015 season ended early because he fouled a pitch into his knee and suffered a hairline fracture, and there's some belief it took him longer to get over the injury than expected, hence last year's performance. With his sweet lefty swing and innate hitting ability, a healthy McKinney could regain significant prospect stock in 2017.
LHP Ian Clarkin was not bad by any means last season — he threw 98 innings with a 3.31 ERA (3.26 FIP) in High-A — though he finished the season hurt (knee) after missing the entire 2015 regular season (elbow). Reports on his stuff were mixed last season, so the Yankees haven't really seen the supplemental first round pick version of Clarkin since 2014. This isn't a make or break year for Clarkin (he just turned 22!) though the Yankees very much want him to stay healthy and regain his former top prospect status in 2017.
Prospects I Am Irrationally Excited About
I was originally planning to call this section sleepers or something, but I figured I might as well be straightforward about it. I've been waxing poetic about IF Thairo Estrada for two years now, and the just turned 21-year-old could reach Double-A in the second half of the season. RHP Zack Littell is kind of the anti-Yankees pitching prospect. He's not physically huge with a big fastball. He's a pitchability guy with three pitches who puts in an insane amount of work studying opposing hitters.
The Yankees are short on catching prospects at the moment — I still expect C Luis Torrens to be returned from the Padres as a Rule 5 Draft pick at some point soon — and their best backstop prospect is C Donny Sands, a converted third baseman. He's a great bat-to-ball hitter with some power potential. Sands is still new to catching and is rough around the edges, but he's attacked the transition and has already made some big strides defensively. He should be a top 30 organizational prospect at this time next year. (Some say he is right now.)
IF Oswaldo Cabrera had a ridiculous statistical season last summer — he hit .345/.396/.523 (163 wRC+) in 52 rookie ball games as a 17-year-old — and comes with interesting offensive upside. It seems likely he's destined for second base rather than shortstop though. That's okay. OF Rashad Crawford was the fourth piece in the Chapman trade and he's loaded with tools and athletic ability, and is just now starting to figure out how to translate those tools into baseball skills. OF Isiah Gilliam is a switch-hitter with pop from both sides of the plate. He quietly finished fourth in the rookie Appalachian League with ten homers as a 19-year-old in 2016.
On the mound, I'm really looking forward to a full, healthy season of RHP Domingo German. He's kind of a forgotten prospect given the Tommy John surgery. German is basically an older, shorter version of Acevedo in that he's a righty with a big fastball and a very good changeup. Unlike Acevedo, German is on the 40-man roster. The Yankees will have him work as a starter this season, though I think we might see him pitch out of the big league bullpen at some point, likely as a September call-up. German can still bring it.
LHP Daniel Camarena has long been a personal favorite, and he bounced back well from elbow surgery last season. Because he's left-handed and breathing, and also likely to open the season in Triple-A, he has to be considered a potential call-up candidate. RHP Jorge Guzman came over in the McCann trade and will live in the 98-100 mph range as a starter. He'll be a Big Deal in a few months. RHP Drew Finley and RHP Nolan Martinez are lower level pitchability guys I am excited about. Also, RHP Nick Nelson. The post-draft scouting reports last year were almost too good to be true. Plus fastball, plus curveball, potentially plus command? Sign me up.
Will They Trade Any Of These Guys?
Yeah, probably. The question is who and for what?
The Yankees have a lot of quality prospects coming up on Rule 5 Draft eligibility after the season
. A lot. They can either try to keep everyone by adding the guys they really like to the 40-man roster and hoping everyone else gets passed over in the Rule 5 Draft, or trade a few of them to ensure some kind of return. You don't want to lose someone like, say, Estrada or Littell for nothing more than the $100,000 Rule 5 Draft fee.
Aside from the Rule 5 Draft concerns, I have to imagine the Yankees are at least tempted to dip into their prospect base to land a pitcher with long-term control. They could really use one of those. Jose Quintana is the big name right now, though who knows who will be available at the trade deadline? Maybe the Phillies will put Jerad Eickoff or Vince Velasquez on the market, or the Diamondbacks will float Robbie Ray and Archie Bradley in trade talks. I get the Yankees want to build from within, but they'd be foolish to not consider available trades.
Either way, the Yankees figure to do some farm system shuffling this year. Not necessarily blockbuster trades, but asset management. Last year the Yankees traded Ben Gamel and James Pazos, two fringe big league players, for lower level prospects to make the 40-man situation a little better. I think we'll see some deals like that this year, perhaps involving Rule 5 Draft eligible prospects not yet on the 40-man. Trades are coming. They're inevitable. And given the depth of the farm system, I don't think we can rule out a blockbuster, however unlikely it may seem right now.
Where Does The System Go From Here?
I believe the likelihood of the following two statements being true in eight months is quite high:
The Yankees will have a worse farm system than they do right now.
The Yankees will still have one of the game's best farm systems.
As it stands, the Yankees are likely to graduate two of my top 30 prospects to the big leagues (Judge, Chad Green) and potentially a handful of others as well (Frazier, Wade, Montgomery,  Williams, Tyler Austin). Inevitably a few pitchers will get hurt and other players will stall out. That's baseball and that's why you want as many prospects as possible. It's hard to see how, after this season, the farm system can be even better than it right now.
That said, the chances New York will still have one of the game's better farm systems are pretty darn good. They'll still have Torres and Rutherford (and Sheffield and Mateo), hopefully a healthy Kaprielian, plus whoever the 2017 draft brings in. Others like Andujar, Adams, and Acevedo all have the potential to be top 100 caliber prospects. Unless the Yankees gut the system to make some trades or they experience a catastrophically bad season in the minors, the club will still be loaded with prospects year from now.
The farm system right now is the focal point of the organization. We're used to looking at a star-laden big league roster around these parts, and while the Yankees figure to be an entertaining team this season (if nothing else), everyone is talking about the farm system. Even the Yankees themselves. Their Winter Warm-Up event was built around prospects and the commercials feature kids, not veterans. This is a new era for the Yankees and that's pretty exciting.