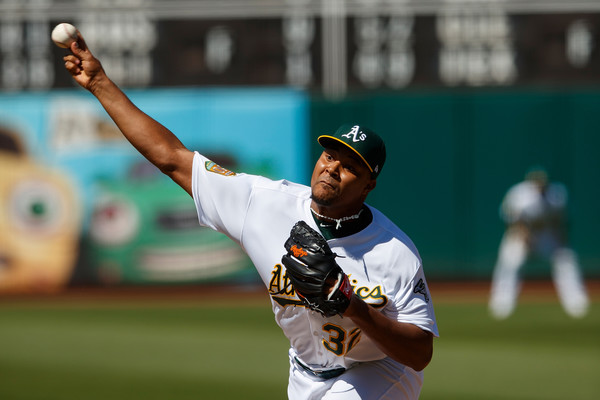 The Yankees are looking for two relievers to replace Zach Britton and David Robertson, and the market it flush with potentially appealing options. I recently wrote about Kelvin Herrera and Andrew Miller, both of whom are coming off of injury-abbreviated campaigns; today I'm going to discuss a couple of relievers coming off of more productive seasons in Jeurys Familia and Adam Ottavino.
Jeurys Familia
2018 Stats – 3.13 ERA, 27.5 K%, 9.3 BB%, 46.3 GB%, 3.13 ERA, 2.65 FIP
Familia spent the first six and a half years of his big-league career as a Met, serving as the team's closer from 2015 through the end of his New York tenure; he was dealt to the A's at this past trade deadline, where he served as a high-leverage fireman instead of a traditional closer. And he excelled in both roles, maintaining above-average strikeout and groundball rates, and an average walk rate. None of his peripherals are particularly jaw-dropping, but there isn't a glaring weakness in his profile, either.
The 29-year-old is essentially a sinker/slider pitcher, with those offerings representing around 80% of his overall pitches. He'll also mix in a four-seamer and the occasional splitter (which is devastating, but has never represented more than 8% of his pitches in a year), depending on the handedness of the batter and what he's feeling. And Familia throws everything hard: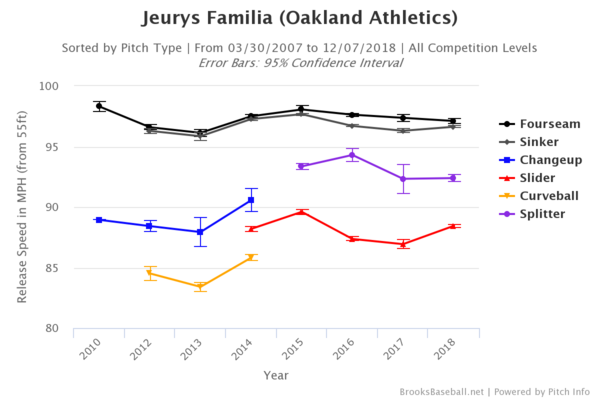 Familia's velocity has remained fairly steady from year-to-year. He's lost about 1 MPH from his peak fastball velocity – but it was over the course of four years, so it's not a terribly worrisome sign. And his sinker and slider are his go-to offerings anyway, and both of those have actually ticked up. We know that velocity can disappear rather suddenly, but there aren't really any warning signs thus far.
It is worth noting that Familia has dealt with two injuries in his career, both of which required surgery. The first was a bone spur removed from his right elbow back in 2013, which kept him out for a few months. And the second was surgery to remove an arterial blood clot from his right shoulder in 2017, which sidelined him from mid-May through the end of August. Neither is necessarily predictive of future injury, but having surgery on your throwing elbow and throwing shoulder cannot be overlooked.
And, being as diplomatic as possible, there are potential character issues off the field, as well. Familia was suspended for the first 15 games of the 2017 season due to domestic violence accusations, and had to undergo at least twelve 90-minute counseling sessions. I do not want to editorialize something of this nature, so I will leave it at that.
So what will Familia cost? MLBTR predicts a 3-year, $33 MM deal, and FanGraphs similarly went with 3-years, $30 MM. Having been dealt mid-season, there are no draft pick considerations. He has that closer shine, so I wouldn't be shocked to see him end up with a deal in that range.
At that sort of price, I don't think that Familia is a great fit for the Yankees. I'm all for the team spending big this off-season to capitalize on their window, but I wouldn't get in a bidding war for someone that another team views as a closer. The Yankees are ostensibly looking for their third and fourth relievers, behind Aroldis Chapman and Dellin Betances, which is somewhere between a luxury and a necessity; I see it as enough of the former that I wouldn't go beyond two years for Familia. And his off the field issues make me a bit hesitant, as well.
Adam Ottavino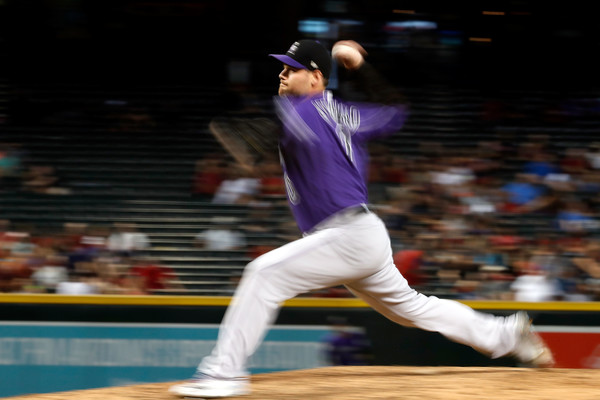 2018 Stats – 77.2 IP, 36.3 K%, 11.7 BB%, 43.0 GB%, 2.43 ERA, 2.74 FIP
At first blush, those are some straight-up droolworthy numbers. A strikeout rate 14 full percentage points above league-average? A 2.43 ERA and 2.74 FIP in Coors?! That's kind of bonkers, isn't it? Even with the walks, you cannot help but be impressed with Ottavino.
A bit more digging, however, doesn't leave you as enthusiastic about his merits. Here's his 2017 line – 53.1 IP, 25.9 K%, 16.1 BB%, 37.2 GB%, 5.06 ERA, 5.16 FIP. That's just about as bad as one can get, even with the comfortably above-average strikeout rate. In short, Ottavino was as bad in 2017 as he was awesome in 2018.
I have seen 2017 explained away, in part, by Ottavino's Tommy John Surgery. However, that surgery came in 2015, and Ottavino returned in the Summer of 2016, showing little to no rust. If anything, you'd expect him to be even better in 2017 – not to post by far his worst season since his cup of coffee debut way back in 2010. It's not uncommon for a pitcher to have an uncommonly bad year; especially relievers, who are notoriously fickle. But it can't be hand-waved, either.
There are signs that his 2018 wasn't just random fluctuation, though. Ottavino essentially shelved his four-seamer this year, replacing it with sinkers and cutters: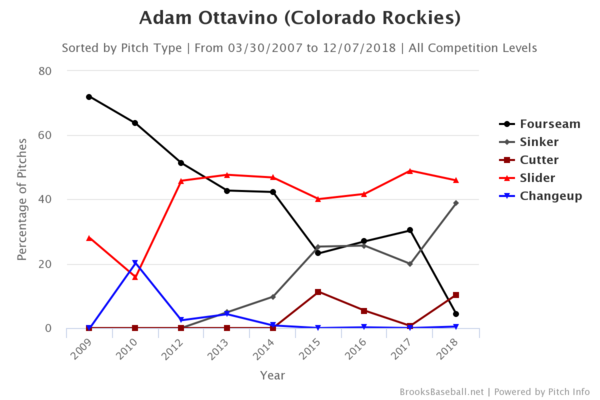 And, like Familia, his high-end velocity has remained relatively steady, with the decline coming slowly: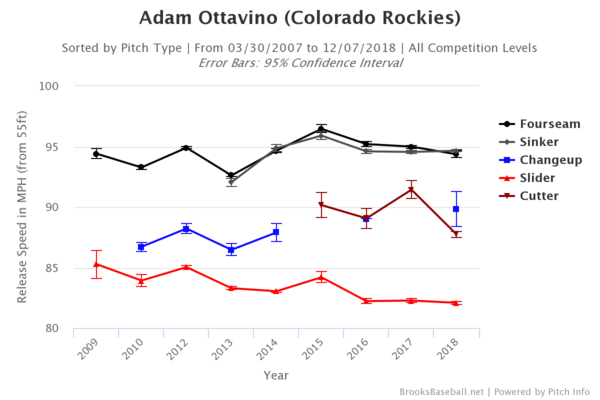 And all of that was on purpose, as Ottavino explained to Travis Sawchik of FanGraphs. The Brooklyn native worked out at a vacant commercial property in Manhattan throughout that off-season, utilizing Driveline tech to help him hone his craft. Put that all together and you have something of a career year. The big question, of course, is whether that's maintainable.
Ottavino, unlike many Rockies pitchers, doesn't show an appreciable home-road split on the mound. He was actually better in Coors in 2013 and 2018, and performed similarly in 2017. Escaping that park will undoubtedly be a plus, but there's not necessarily a ton of hidden value there.
The biggest concern with Ottavino, at least to me, is his age. He turned 33 in November, and both MLBTR and FanGraphs project a 3-year, $30 MM deal (which MLBTR actually sees him signing with the Yankees). I can somewhat buy 2017 being an aberration, and I am on-board with him rebuilding himself in the 2017-18 off-season – but he's at an age where regression can come abruptly and viciously.
Ottavino is an obvious fit for the Yankees, as a guy that racks-up strikeouts and lives in the area (and apparently loves it). I love his determination to rebuild himself after a horrific season, as well, and it's a great sign that it worked so well. I'm hesitant about a longer deal at his age – but I prefer him to Familia. And, again, at two years I'm definitely in.