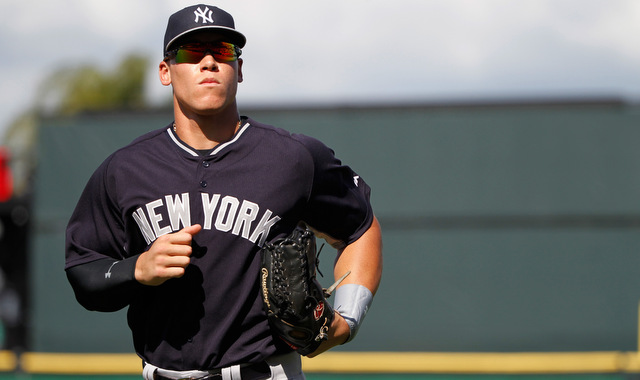 Over the last few seasons Triple-A rosters have become extensions of the 25-man big league roster. There is no better example of this than last year's bullpen shuttle. Teams use their Triple-A rosters not only to develop prospects, but also to stash depth players at each position should they be needed due to injury or poor performance. And they will be needed. Baseball always makes sure of it.
Brian Cashman has already said the Yankees hope to use their 25th roster spot as a revolving door based on their needs at the time. If they need an extra bullpen arm, they'll call up a pitcher. If they need an extra outfielder because someone is banged up, then they'll call up an extra outfielder. It sounds like a great plan. Will it work as well in reality as it does on paper? We'll see.
So, with that in mind, let's sort out the projected Triple-A Scranton roster as it sits right now. After all, these guys are the backup plans for the big league team. I have zero doubt we'll see several of these players in the Bronx this coming summer, including guys none of us would ever expect. Remember Kyle Davies? Matt Tracy? Yeah. Let's start with the position players. Asterisks (*) denotes players on the 40-man roster.
| Catchers | Infielders | Outfielders | Utility |
| --- | --- | --- | --- |
| Gary Sanchez* | Greg Bird* | Slade Heathcott* | Tyler Austin |
| Carlos Corporan | Rob Refsnyder* | Mason Williams* | |
| Eddy Rodriguez | Pete Kozma | Ben Gamel* | |
| Sebastian Valle | Donovan Solano | Lane Adams* | |
| | Jonathan Diaz | Aaron Judge | |
| | | Cesar Puello | |
There are 25 roster spots in Triple-A and, believe it or not, that is relatively new. Triple-A and Double-A teams had 24-man rosters as recently as 2011. It's pretty common for Triple-A teams to carry three-man benches and eight-man bullpens because of workload limits and whatnot, especially early in the season before guys are fully stretched out. I've got 16 position players in the table there, so three or four won't make the cut one way or another.
Catchers: All signs point to Sanchez being the big league backup catcher, though that's not set in stone just yet. The Yankees could send him to Triple-A for regular playing time and to work on his defense. As an added bonus, sending Sanchez down for 35 days or so will delay his free agency another year. Assuming Sanchez makes the MLB team, Triple-A catching duties will belong to Corporan and either Rodriguez and Valle. They're all defense-first guys who can't hit.
Austin Romine, Sanchez's primary competition for the backup job, is out of minor league options and has been outrighted before, meaning if he doesn't make the Opening Day roster, he has to go through waivers and can elect free agency if he clears, which I imagine he would do in an effort to find a better opportunity. There appear to be only two ways for Romine to remain in the organization beyond Spring Training: he gets the backup catcher's job, or he gets hurt in camp and is placed on the MLB DL.
If Sanchez doesn't make the big league roster, he'll be the starting catcher in Triple-A with either Romine or Corporan backing up Brian McCann. If Romine backs up McCann, Corporan will be in Triple-A. If Corporan backs up McCann, Romine will be gone and either Valle or Rodriguez will be with Sanchez in Triple-A. For now, I'll say Sanchez makes the big league roster. The Yankees leaned on their prospects a lot in 2015 and I think that'll continue in 2016.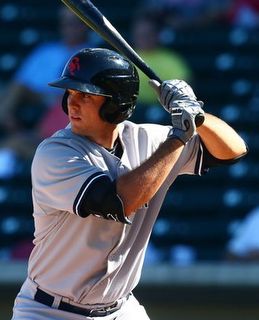 Infielders: Barring injury, Bird and Refsnyder will start the season with the RailRiders. "That's the optimal" according to Cashman, at least when it comes to Bird. The Yankees lost Ronald Torreyes on waivers earlier this week but still have Kozma, Solano, and Diaz on minor league contracts. I expect them to compete for a big league bench job in camp, and hey, one of them might win a spot.
In that case, Bird and Refsnyder will hold down the right side of the infield while the other two guys handle the left side. That means the RailRiders still need a utility infielder. There are going to be five infielders on the roster no matter what. Cito Culver and Dan Fiorito are the best candidates for that job right now. I wouldn't be surprised if the Yankees brought in one more minor league infielder these next few weeks. A minor league contract or waiver claim, something like that. One pulled hamstring in camp and the Yankees could be real short on upper level infield depth.
Outfield: The Triple-A outfield picture is crowded and yet crystal clear. Judge, Slade, Williams, and Gamel will be the four regular outfielders. They'll rotate around the outfield and at DH. Simple, right? Puello, who played exactly one game in 2015 due to a back injury, is an obvious candidate for Double-A. Between the two catchers, the five infielders, and the four outfielders, we're already at eleven position player spots.
So right now there is room for only one more position player since an eight-man bullpen is rather common in April. That last spot comes down to Adams and Austin. Both stunk in Triple-A last season and had to be demoted to Double-A in the second half. Adams is two years older and a better defender, but Austin has the advantage of being able to play a little first base as well. Plus he has seniority in the organization. That can't hurt.
My guess — and this is nothing more than a guess — is Adams will get the Triple-A spot over Austin. Adams is older and on the 40-man roster, so the Yankees probably want to figure out what they have in him as soon as possible. If he can't hack in Triple-A, they'll cut him and move on. In that case Austin would anchor a Double-A Trenton lineup that is a little light on prospect power. He, Puello, Taylor Dugas, and Mark Payton would be the Thunder outfield.
After all of that, the Triple-A roster looks like this on the position player side:
Catchers (2): Two of Sanchez, Corporan, Rodriguez, and Valle.
Infielders (5): Bird and Refsnyder, Kozma, Diaz, and Solano. If one of them lands a big league job, Culver or Fiorito are candidates to fill the spot in Triple-A.
Outfielders (5): Judge, Heathcott, Gamel, Williams, Adams.
Position battles in Spring Training will determine the exact roster, as will injuries and things like that. The last big league bench spot is wide open, and the backup catcher's job is not Sanchez's just yet. Now let's move on to the pitchers.
| Starters | Righty Relievers | Lefty Relievers |
| --- | --- | --- |
| Bryan Mitchell* | Nick Rumbelow* | Chasen Shreve* |
| Luis Cessa* | Branden Pinder* | Jacob Lindgren* |
| Anthony Swarzak | Nick Goody* | James Pazos* |
| Brady Lail | Kirby Yates* | Tyler Olson* |
| Chad Green | Johnny Barbato* | Tyler Webb |
| Jaron Long | Vinnie Pestano | |
| Eric Ruth | Tyler Jones | |
| Ronald Herrera | Mark Montgomery | |
| Caleb Smith | | |
Lots and lots of pitchers. I have 22 names in the table for 12-13 Triple-A spots and three big league bullpen spots, so 6-7 of those guys are going to get stuck in Double-A. Of course, not everyone will get through Spring Training healthy. A handful of pitchers always get hurt in March. (There always seems to be a rash of Tommy John surgeries in Spring Training as pitchers ramp up their throwing.) It's a vicious part of the baseball calendar.
I honestly think the Yankees will use those final three MLB bullpen spots to take the players they believe give them the best chance to win, regardless of previous role or handedness. If it's three lefties, so be it. If it's three guys who are starters by trade, fine. Remember, the Yankees took David Phelps, Adam Warren, and Vidal Nuno north as relievers back in 2013 because they were the best options. The team didn't worry about leaving one or two stretched out in Triple-A.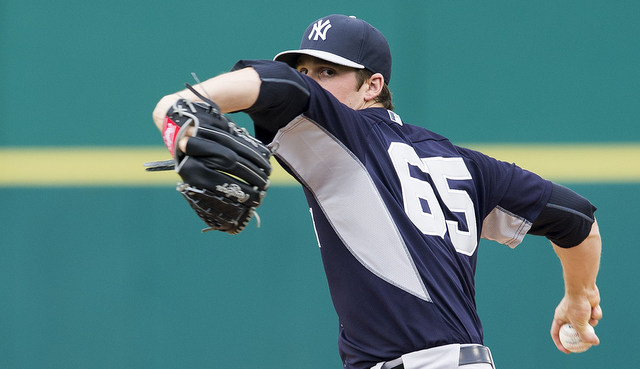 Trying to predict who will make the bullpen right now is impossible and a waste of time. No one expected Preston Claiborne to come to camp throwing fire three years ago, putting him in position for a big league call-up. Shreve might have a leg up on everyone else because he was so good for the first four and a half months last season. Aside from that, good luck figuring out who starts in MLB and Triple-A. And besides, the shuttle ensures these guys will be rotating in and out all year anyway.
I will say that of those 22 pitchers listed, I believe Ruth, Herrera, Smith, Jones, and Montgomery are mostly likely to be squeezed down to Double-A due to a roster crunch. (Herrera's the guy who came over in the Jose Pirela trade.) I wouldn't necessarily call them non-prospects. They're just low priority prospects in the grand scheme of things. They lack the upside of the other pitchers in the table, relatively speaking.
Among the deep depth arms are lefty Chaz Hebert and righty Kyle Haynes. They're among the starters who will open the season in Double-A and jump to Triple-A whenever a spot start is needed because of call-ups and whatnot. Ruth, Herrera, and Smith are in that group. There's no doubt the Yankees have a ton of upper level pitchers, particularly in the bullpen. Now they just have to figure out which of these guys can stick in the big leagues.