Skipped the mailbag last week because of the Season Preview series, but we're back at it this week. Got four questions for you, two about current Yankees and two about players they may or may not look to acquire. Remember to use the Submit A Tip box in the sidebar to send up anything throughout the week.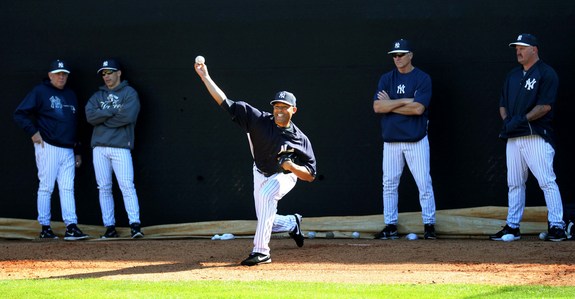 Paul asks: In 2011 and 2012 (maybe 2010 too) we saw Mariano Rivera get used more cautiously. Less outings of more than an inning, more rest, etc. Any chance Joe Girardi will just send him out there and give him the Joe Torre/Scott Proctor treatment since this is his last year?
That's a pretty interesting question, but I would be shocked if Girardi used Rivera for more than three outs semi-regularly. That doesn't mean I think he should use him for 100+ innings like it's 1996 either, but I would like to see Mo for two innings in an extra innings game at home, for four or five outs if things are getting hairy in the eighth, stuff like that. I would hope Girardi scraps any workload concerns in the postseason and just goes nuts, squeezing every last bullet out of Rivera's arm in the weeks before retirement, but they have to get to the playoffs first.
Travis asks: If the Yankees look outside the organization, would Yan Gomes of Cleveland make sense? He can play 3B, 1B and even a little LF.
Gomes, 25, is most notable for being the first Brazilian-born player to play in MLB. He debuted with the Blue Jays last season and hit .204/.264/.367 (69 wRC+) in just 111 plate appearances, then was traded to the Indians with Mike Aviles for Esmil Rogers over the winter. He's very versatile, with a ton of experience at the corner infield spots and behind the plate, plus he dabbled with left field a bit last year.
Baseball America ranked Gomes as the 27th best prospect in Cleveland's system in their 2013 Prospect Handbook, one spot ahead of current Yankee Thomas Neal. They said Gomes "may not quite profile as a regular, but he could be useful as a backup catcher who can play multiple positions and provide power," noting that he's an impatient hitter and his swing gets a little long. He would make sense for several teams as a right-handed bat off the bench, including the Yankees, but I don't think I would give up much to acquire him. Pretty much the only thing he has on someone like Ronnie Mustelier is the ability to catch, which is big but not the most important thing in the world.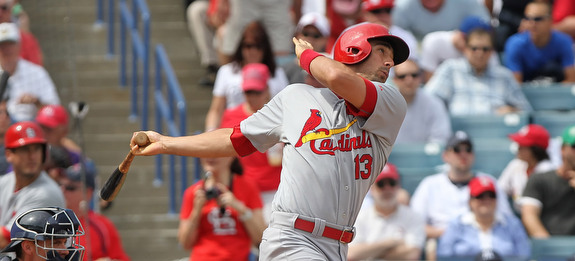 SMC asks: Rafael Furcal is having Tommy John surgery and Pete Kozma isn't a shortstop. What about Eduardo Nunez for Matt Carpenter? Fits a need for both sides.
Heh, Nunez is no shortstop either, not unless he manages to get his throwing under control. I don't expect that to happen, he's been working on it for years. Going way back in the minors too, I'm not talking about two or three years. The Cardinals have a perfectly capable shortstop in Ryan Jackson who they seem unwilling to use. He's a great defender but he can't hit, which is better than no-hit/no-glove Kozma. I don't think Nunez would be all that interesting to them.
That said, I love Carpenter. The 27-year-old is a career .283/.359/.447 (120 wRC+) hitter with six homers in limited big league time (359 plate appearances), but he's hit at every step of the minors and consistently walked as much (if not more) than he's struck out. Carpenter can handle the four corner positions and St. Louis has been working him out second base this spring, and apparently he's done well enough that they're leaning towards playing him there full-time to open the season. I'd love to see the Yankees acquire him and playing him fairly regularly at whatever position, but I don't think the Cardinals will make him available. Certainly not for Nunez anyway.
Tom asks: I feel like I've seen Corban Joseph play third a few times so far this spring, and he's looked okay at third to my untrained eye. We've all heard the knock on him is his defense, but I was wondering how big a knock that is? Is he a guy that could fake third for a while and not have it be disastrous, or do you think the truth will get ugly if/when we see him more at 3B?
Joseph's problem isn't so much fielding the ball, he just doesn't have the arm — strength or accuracy — to consistently make the throw over to first. That's been very evident this spring, as he short-hopped balls across the diamond or muscled up so much they landed in the stands. This isn't Nunez having the tools and being unable to use them to make the play, this is not having the tools at all. I like Joseph and think he can be a productive enough hitter to at least come off a big league bench, but I just don't know where he would play. Do you just accept the risk at third and hope the bat makes up for it? Maybe, but it's very risky.