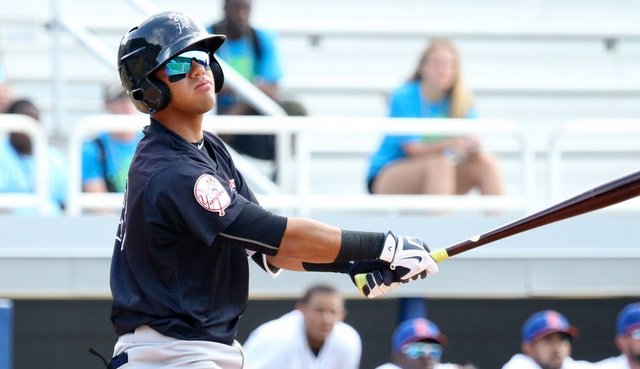 Two and a half years ago the Yankees did something that sent shockwaves throughout baseball. On July 2nd, 2014, the first day of the 2014-15 international signing period, the Yankees committed more than $17M in bonuses to amateur players and completely blew their $2.2M bonus pool out of the water. Between bonuses and penalties, the team spend upwards of $30M on international free agents that signing period.
The Yankees were not the first team to exceed their international bonus pool but they were the first to do it in such an extreme way. Since then other clubs, including the Dodgers and Braves and Padres, have followed suit and spent huge on international free agents. The tax and other penalties, including a $300,000 limit on bonuses during both the 2015-16 and 2016-17 international signing periods, were a price worth paying for a one-year talent windfall.
As the owners continue to push for an international draft as part of Collective Bargaining Agreement negotiations — Ken Rosenthal says they've backed off that demand, for what it's worth — the Yankees are in the process of developing and cultivating that 2014-15 international class. International free agency is not the thing for you if you're looking for instant gratification. Turning 16-year-olds into big leaguers is a long and not always smooth process.
The 2016 season was the second full year in pro ball for players signed during the 2014-15 period — players sign contracts that begin the following season, so the kids who signed on July 2nd, 2014, signed 2015 contracts — and the Yankees are starting to see some exciting things happen in the lower minors. Here's a progress report on that 2014-15 international signing class.
The Top Prospect
You know, it's actually very up for debate who currently is the best prospect the Yankees signed as part of the spending spree. But, since this is my blog, I'm making an executive decision. SS Wilkerman Garcia ($1.35M bonus) burst onto the scene with a huge debut in 2015, hitting .299/.414/.362 (140 wRC+) with more walks (15.8%) than strikeouts (12.0%) in 39 rookie ball games. He's the best prospect from the 2014-15 class. Unfortunately his 2016 follow-up didn't go too well.
Garcia, who won't turn 19 until April, suffered a shoulder injury in Spring Training this year, and while he didn't need surgery or anything like that, he spent much of the first half rehabbing in Extended Spring Training. When he was ready to play, he went to rookie level Pulaski and put up a disappointing .198/.255/.284 (52 wRC+) batting line with 18.4% strikeouts and 6.3% walks in 54 games. Wilkerman was two and a half years younger than the average Appalachian League player.
The stat line is not pretty, but the most important thing is Garcia's shoulder is now healthy and he didn't lose any of the high-end athleticism that landed him such a large bonus. Wilkerman is a switch-hitter with bat control and strike zone knowledge, plus he runs very well and has a strong arm, which suit him well at shortstop. Hopefully 2016 was just a bump in the road. Garcia projects as an impact AVG/OBP/speed/defense leadoff type.
The New Hot Prospect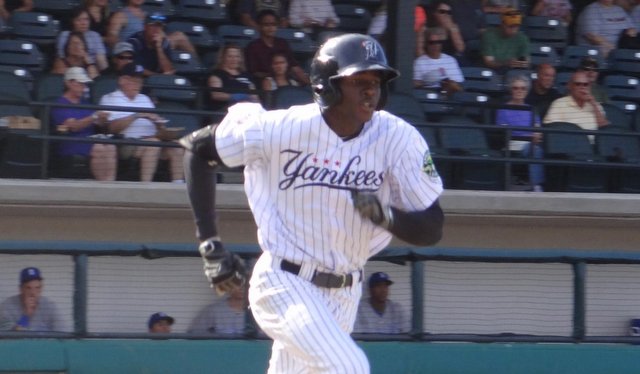 One of the best prospects the Yankees signed during the 2014-15 signing period did not sign on July 2nd. He signed in March 2015. OF Estevan Florial ($200,000) was a highly regarded prospect heading into the signing period before being suspended by MLB for paperwork issues. Joel Sherman has a great story on Florial's background. Apparently his mother used fraudulent paperwork to get him into school.
Florial, who turned 19 last week, annihilated the Dominican Summer League last season, hitting .313/.394/.527 (154 wRC+) with seven home runs and 15 steals in 57 games. His stateside debut in 2016 didn't go quite as well. Florial put up a .228/.310/.370 (92 wRC+) line with eight homers and ten steals in 70 games at mostly Pulaski. (He also made brief cameos with Low-A Charleston and High-A Tampa.) Florial struck out in 28.9% of his plate appearances.
The stat line is not what gets folks so excited about Florial. It's the scouting report. During a recent Baseball America podcast, Josh Norris said scouts are giving Florial a 70 (on the 20-80 scouting scale) for three tools: power, running, throwing. That's bonkers. Florial, a lefty hitter, has huge power and is a tremendous athlete. The only red flag in his game — and it's a significant one — is his tendency to swing and miss.
More than a few tooled up players have been sabotaged by insufficient hitting ability, but that doesn't mean you stop targeting those players. Every once in a while they turn into Kris Bryant. Florial is so well-regarded that teams are already asking for him in trades, according to Sherman. Given his natural ability, the Yankees scored a major win signing Florial for a mere $200,000 that late in the signing period.
The Power Threats
The two largest bonuses the Yankees handed out during the 2014-15 signing period went to 3B Dermis Garcia ($3.2M) and 3B Nelson Gomez ($2.25M). (Garcia signed as a shortstop and has since moved to third.) For both players, their calling card is their power. MLB.com ranked them as the top two international prospects in 2014 and they gave Dermis a 65 for his power. Gomez received a 60. Those are huge numbers for kids who were only 16 at the time.
Garcia, 19 in January, showed off that power during his 57-game stint with Pulaski this summer. He hit .206/.326/.454 (114 wRC+) overall and finished second in the league with 13 homers. The home run leader, Bradley Jones of the Blue Jays, hit 16. He's three years older than Garcia. Dermis also struck out 34.3% of the time because he takes a big aggressive hack, which leads to a lot of whiffs. When he connects though, this happens:
At one point this summer Garcia went deep in four straight games — only 15 teenagers hit at least four home runs all season in the Appy League — and eight times in the span of 15 games. Eighteen-year-old kids in rookie ball just don't do that. His power is truly special.
Garcia is not a mindless hacker. He knows the strike zone (13.9 BB%) and which pitches he can punish. His swing is just so aggressive — it's basically a Javier Baez swing, that kind of aggressive — that he comes up empty a good amount of the time. Once Dermis realizes his power is so great that he can still hit the ball out of the park while taking a more controlled swing, he's going to be a monster.
As for Gomez, the just turned 19-year-old made his stateside debut in 2016 and authored a .194/.249/.403 (92 wRC+) batting line in 54 games with one of the Yankees' two rookie Gulf Coast League affiliates. The good news: Gomez was second in the league with nine homers. (The leader, Ignacio Valdez of the Tigers, had eleven and is two years older.) The bad news: Gomez struck out 25.8% of the time and walked 3.8% of the time.
Unlike Garcia, Gomez is a true hacker who will swing at pretty much everything and chase out of the zone. His plate discipline and approach are a very long way away from being competitive. Neither player offers a ton defensively, so their value is tied up heavily in their bats. Garcia is much more than a mistake hitter. He can hit. He just needs to tone things down a notch. Gomez has to figure out how to read spin and discern a ball from a strike.
The Sleeper
Unlike the players above, SS Diego Castillo ($750,000) does not come with loud tools. He's not going to wow you with speed and his arm like Wilkerman, or hit the snot out of the ball like Dermis or Gomez, or grab your attention like Florial. Castillo, who turned 19 last month, is a bat-to-ball machine with a sweet swing and an opposite field approach. He can also play the hell out of shortstop thanks to good mobility and a strong arm.
This summer Castillo came to the U.S. and hit .267/.332/.327 (102 wRC+) with one home run and five steals in 44 GCL games. His strikeout rate (11.4%) is a result of his contact-focused approach, plus he drew a good amount of walks too (7.6%). Castillo is a boringly good prospect. He's not flashy, but he's very fundamentally sound and instinctive on the baseball field. Castillo has the ability to be a rock solid shortstop who helps on both sides of the ball at the next level.
The Advanced Prospect
Advanced is a relative term. We are talking about (mostly) teenagers here, after all. The oldest bonafide prospect the Yankees signed during the 2014-15 signing period is SS Hoy Jun Park ($1.2M), who signed at 18 after graduating high school in South Korea. He spent this past season sharing second base and shortstop with Kyle Holder at Low-A Charleston, where he hit .225/.336/.329 (97 wRC+) with two homers, 32 steals, 23.2% strikeouts, and 13.0% walks in 116 games.
At this point Park's offensive game lags behind his defense because he didn't face the greatest competition growing up. He's a left-handed hitter with a good swing and a plan at the plate, and once he adds some meat to his frame (6-foot-1 and 175 lbs.), the power should come. Park is a no-doubt shortstop with a quick first step and a strong arm. He's prone to being a little too flashy and making mistakes, but that's nothing a little experience can't fix.
Park is older than most of his 2014-15 signing period brethren and he's already spent a full season in Low-A, so he's higher up the ladder as well. His offensive game has started to come around nicely since signing. Park's easy to overlook in a farm system loaded with shortstops, but he has some really exciting skills. He has the potential to be a standout shortstop on both sides of the ball.
The Pop-Up Prospect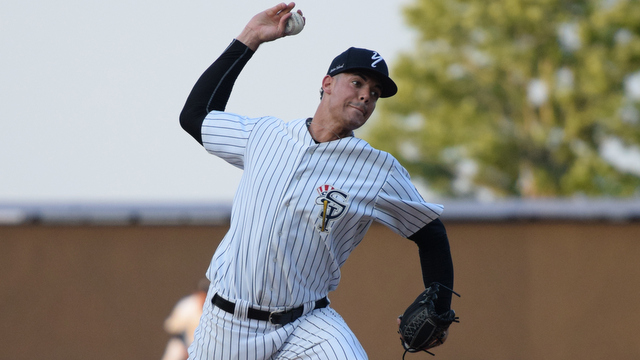 "Pop-up" prospects happen a lot with international free agents. Jorge Mateo and Luis Severino were pop-up prospects. Both were lower profile prospects signed to relatively small bonuses, their physical development was favorable — a lot kids go through growth spurts and lose the athleticism that get them signed in the first place — then bam, they were top prospects. Scouting kids who are 15 or 16 years old and projecting what they'll be at 21 and 22 is awfully tough. The error bars are huge.
RHP Freicer Perez ($10,000) is the pop-up prospect from the 2014-15 signing period. The 20-year-old held his own with Short Season Staten Island in 2016, pitching to a 4.47 ERA (3.81 FIP) with 20.6% strikeouts and 10.5% walks in 13 starts and 52.1 innings. Perez is massive. He's listed at 6-foot-8 and 190 lbs., which means he still hasn't filled out and could add to a fastball that already sits 95-97 mph. His breaking ball and changeup need work, as does his overall command, but squint your eyes and you can see a Dellin Betances starter kit. Not too shabby for a $10,000 investment.
The Other Big Money Prospects
The Yankees gave out seven seven-figure bonuses during the 2014-15 international signing period. Stick to the spending pools and most teams would be able to afford two $1M+ bonuses, maybe three. The Yankees made a complete mockery of the system. No wonder the owners are pushing for an international draft now.
Anyway, four of those seven $1M+ bonuses went to Gomez, Park, and the two Garcias. One of the other three went to OF Jonathan Amundaray ($1.5M), an 18-year-old who hit .269/.321/.394 (112 wRC+) with two homers and an 18.8% strikeout rate in 29 games while repeating the Dominican Summer League in 2016. Amundaray has been billed as a good worker and very coachable, and the Yankees are waiting for his athletic ability to translate on the field.
OF Juan DeLeon ($2M) was arguably the most exciting prospect the Yankees signed two years ago thanks to his well-rounded game and true five-tool skill set. He appeared in only a dozen GCL games this summer due to an injury, hitting .212/.308/.364 (103 wRC+) in 39 plate appearances. Meh. I wouldn't call this a lost year — DeLeon did get to work in Extended Spring Training before the GCL season — but not much happened for him in 2016.
The final seven-figure bonus went to C Miguel Flames ($1.1M), whose development behind the plate has been slow. Last year he caught nine games in the DSL (41 at first base) and this year he caught ten games in the GCL (36 at first). Many of them weren't even full games. The Yankees had Flames catch five innings every few days for a while, and that was it. Not everyone takes to the position as quickly as Luis Torrens. The Yankees have had to ease Flames into it.
The Best of the Rest
Among the other notable 2014-15 international prospects are OF Brayan Emery ($500,000) and RHP Gilmael Troya ($10,000), both of whom played in the GCL in 2016. Emery, 18, hit .208/.328/.255 (88 wRC+) with one homer in 32 games and has insane tools. He was initially expected to sign for $1M+. Troya, 19, broke out last year after some mechanical tweaks, though he took a step back this summer and put up a 3.78 ERA (4.41 FIP) in 50 innings. He stands out for his fastball/curveball combo and pitching know-how.
Here are the rest of the notable prospects the Yankees signed during the 2014-15 signing period, plus a note on their 2016 performance and current status:
OF Antonio Arias ($800,000): 18-year-old hit .239/.350/.266 (95 wRC+) in 51 games while repeating the DSL. He's a great athlete and incredibly raw. A total lottery ticket.
OF Lisandro Blanco ($550,000): 19-year-old was overmatched in the GCL, hitting .111/.265/.185 (52 wRC+) in 26 games. Baseball is hard, even when you have premium bat speed like Blanco.
OF Leobaldo Cabrera ($250,000): 18-year-old hit .196/.261/.224 (53 wRC+) in 43 GCL games. He's a raw athlete who stands out most for his throwing arm.
OF Frederick Cuevas ($300,000): 19-year-old playing sparingly in the GCL and hit .267/.302/.350 (96 wRC+) in 30 games. Cuevas is a lefty hitter with some pull power and approach issues.
IF Griffin Garabito ($225,000): 19-year-old followed up a solid 2015 debut by hitting .182/.238/.223 (44 wRC+) in 36 GCL games. He profiles best a contact heavy utility infielder.
C Jason Lopez ($100,000): 18-year-old hit .192/.267/.346 (85 wRC+) in only eleven GCL games. He's a recently converted infielder with a rocket arm and some pop.
OF Erick Mendez ($250,000): 20-year-old put up a .243/.318/.393 (112 wRC+) line in 40 games between the GCL and Pulaski, then failed a performance-enhancing drug test after the season. He'll serve a 50-game suspension at the outset of 2017.
OF Raymundo Moreno ($600,000): 18-year-old hit a fine .284/.381/.333 (119 wRC+) in 56 games while repeating the DSL. He's got some loud tools and could make a name for himself in the GCL in 2017.
OF Pablo Olivares ($400,000): 18-year-old put up a .285/.378/.392 (135 wRC+) batting line in 47 GCL games. He a right-handed hitter who sprays the ball to all fields and is an excellent center field defender. The Yankees might have something here.
IF Danienger Perez ($300,000): 20-year-old hit .213/.248/.283 (60 wRC+) in 35 games between the GCL and Low-A. Perez is a speedy slap hitter who hasn't hit much in pro ball.
These are not even all the prospects the Yankees signed during the 2014-15 signing period. These are just the most notable. All told, the Yankees brought in about four years worth of international talent two years ago. Most years you may get one or two premium prospects and two of three secondary guys of note. In 2014-15, the Yankees landed four headliners (Park, Florial, the Garcias) and a host of second tier prospects (Gomez, Perez, Castillo, DeLeon, Flames, Amundaray, Emery, Troya, Olivares).
I'm not sure how many of these players will play full season ball in 2017 — Park will for sure, and I could see the Yankees pushing Florial and Perez to Low-A — but the Yankees have more than enough short season league teams to house them all. No one has knocked your socks off statistically yet — hey, they can't all dominate instantly like Jesus Montero — but Florial, Dermis, Park, and Perez have all made improvements while others are still showing the big tools that got them signed at 16. With kids this age, that's not always a given two years later.