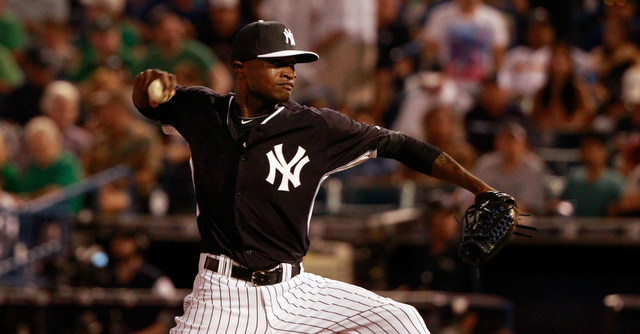 Prior to yesterday's midnight deadline the Yankees non-tendered right-hander Domingo German, the team announced. German is now a free agent. Every other pre-arbitration and arbitration-eligible player on the 40-man roster received a contract tender.
German, 23, came over from the Marlins last offseason in the Martin Prado-Nathan Eovaldi trade. I ranked him as the team's 11th best prospect before the season, but German blew out his elbow in Spring Training and underwent Tommy John surgery. He missed the entire season.
The 2014 season was German's breakout year. He had a 2.48 ERA (3.26 FIP) with a 22.4% strikeout rate and a 5.0% walk rate in 123.1 innings, all with Miami's Low-A affiliate. German represented the Marlins in the 2014 Futures Game …
… and is a sinker/slider pitcher with an okay changeup. He would have opened the 2015 season with High-A Tampa and, given how aggressive the Yankees were with their promotions this summer, German could have finished the year with Double-A Trenton. Instead he had to rehab from elbow reconstruction.
German seems like a prime candidate for the "non-tender then re-sign" move the Yankees pulled with Slade Heathcott and Vicente Campos last year. The non-tender allowed them to remove German from the 40-man roster without exposing him to waivers, and now they can re-sign him to a minor league deal.
"I think it's on the table. We're in discussions. There have been a lot of teams who called for him but he likes New York and we're definitely open to coming back," said agent Storm Kirschenbaum to Brendan Kuty. "Coming off an injury, obviously financials are important. Also, knowing that he has an opportunity to get back on the 40 and get back to the big leagues — that's every player's dream."
It's risky, another team could swoop in and give German a 40-man spot, but I'm sure the Yankees and German had some dialogue before the non-tender. If he does come back on a minor league contract, German will be eligible for minor league free agency next offseason. The Yankees currently have 39 players on the 40-man roster.