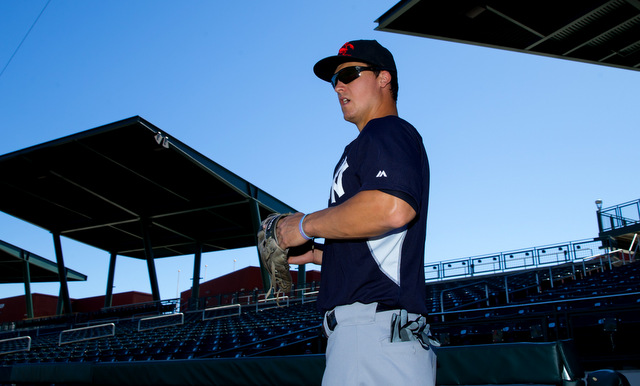 Tomorrow night Alex Rodriguez will play the final game of his MLB career. That's pretty wild, isn't it? We all knew the end would come sooner rather than later, but this is all happening so fast. It's for the best though. The Yankees are better off with someone else occupying A-Rod's roster spot, and come Saturday, someone else will indeed be occupying that roster spot.
The Yankees seem committing to giving their young players a chance down the stretch, and A-Rod's exit gives them an opportunity to incorporate another kid into the lineup. Gary Sanchez has been up for a week already and he's getting regular at-bats. It's pretty cool. Aaron Judge and Tyler Austin seem to be the most likely candidates to replace A-Rod, but they're not alone. Let's break down their cases.
Tyler Austin
The Case For Austin: After a few seasons of injury and poor performance, Austin has put himself back on the prospect map this year by hitting .295/.394/.527 (161 wRC+) with 17 homers in 106 games split between Double-A and Triple-A. He's got opposite field pop and defensive versatility, at least somewhat. Austin can play first base and right field, as well as DH. He could also man third base in a real pinch, but not regularly.
Austin has to be added to the 40-man roster after the season and the Yankees figure to do exactly that rather than risk losing him for nothing. Greg Bird is rehabbing from shoulder surgery and first base is a little up in the air next season, and Austin could be an option there. Calling him up now and giving him regular at-bats would give the Yankees a chance to evaluate him against MLB caliber pitching. That's the entire point of calling these guys up.
The Case Against Austin: Even with the bounceback year, Austin's upside is not sky high, and he projects as maybe a solid regular at the MLB level if things break right. Historically, righty hitting and righty throwing first basemen have to hit and hit big to stick around long-term. Austin's ability to play the outfield works in his favor, though we're now talking about a right-handed Garrett Jones type. Rather than audition Austin this month, the Yankees could opt to play a higher upside prospect with a better chance to be a part of the next core.
Aaron Judge
The Case For Judge: Simply put, Judge came into the season as the team's top prospect — he'd still be their top prospect if not for the Clint Frazier trade — and he's done exactly what the Yankees wanted him to do this season. He's putting up good numbers (.265/.359/.472 with 18 homers and a 141 wRC+) and he's cut his strikeout rate down to 23.9%, lowest it's been since he was in Low-A ball two years ago. The performance is there.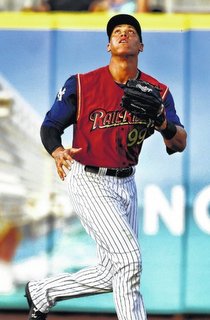 On top of that, the right field job is wide open going forward, and Judge is the obvious candidate to assume that position long-term. It's not just about the bat. Judge is a surprisingly good runner for his size and he's an asset on defense with a very strong arm. He's going to surprise a lot of people with his athleticism when he first comes up. Guys listed at 6-foot-7 and 275 lbs. usually don't move this well. Judge is the heir apparent in right field and his time is now.
The Case Against Judge: Judge did just return from a knee injury that forced him to miss close to a month, remember. He's performed well since returning, going 10-for-29 (.345) in eight games, but that's still a lot of time to miss. A few more Triple-A at-bats to make up for the lost time wouldn't be the end of the world. Also, Judge doesn't offer much versatility, so if the Yankees remain committed to giving Aaron Hicks a look, the everyday at-bats might not be there.
Other Candidates
Ben Gamel: Gamel is having another strong season in Triple-A (132 wRC+) around a few short call-ups to MLB. He's a lefty hitting outfielder, which is something the Yankees don't exactly lack right now. Finding playing time for Gamel, who might only be a fourth outfielder long-term, might not be all that easy. I — and I think the Yankees — would rather see Hicks out there everyday.
Clint Frazier: Overall, Frazier is hitting .273/.345/.463 (122 wRC+) this season, though most of that is at Double-A. He's played 13 total games at Triple-A (73 wRC+), including eight since the trade. Frazier is ridiculously talented and a potential impact hitter, but there is still some development to be done. Calling him up would be a sexy, headline making move. It would also be extremely aggressive.
Chris Parmelee: Remember him? Parmelee is currently on a Triple-A rehab assignment and will have to be activated off the DL no later than Thursday, August 25th. He could be activated to replace A-Rod and get a bunch of first base and DH at-bats. Of course, the 28-year-old Parmelee has no long-term future in the organization, so he doesn't exactly qualify as part of the youth movement.
Others like Jake Cave, Cesar Puello, and Mason Williams could be call-up candidates as well — Williams is actually on the Triple-A DL with a quad injury at the moment — though they seem to be further down the depth chart at the moment. It truly feels like it's Austin and Judge against the field right now. Who's the best option?
Who should be called up to replace A-Rod?